After watching him finish unbeaten on 38 at the end of Day 1 in the second Test against the West Indies, the chances of Sachin Tendulkar essaying a century in his final Test are looking bright, says Haresh Pandya.
In August 1948, when the peerless Don Bradman went to bat for the last time wearing an Australian jersey, after England were bowled out for a paltry 52 and Arthur Morris (196) and
Sidney Barnes (61) laid a solid foundation for their team by putting on 117 runs for the first wicket, there was tremendous pressure on him to play a monumental innings in his typical
aggressive style.
But fate had some other idea. As if acting on its behalf on August 16, English leggie Eric Hollies bowled the great man neck and crop before he could even open his account. Hollies, a relatively unknown entity until then, could not believe his eyes. Nor did his ecstatic colleagues. But Bradman simply walked towards the pavilion, removing his baggy green and gloves, carrying his bat, as the spectators accorded him a standing ovation and kept clapping even several minutes after he had entered the greenroom.
As most cricket buffs know, or must know, Bradman needed just four runs in his last innings to own a dream average of 100 runs. Many felt that the Aussie got emotional when he reached the wicket and his moist eyes could not see the Hollies delivery properly. But those who knew Bradman as a man of steel on and off the field, later said that it was nonsense and put it down to a great dismissal by a leg-spinner.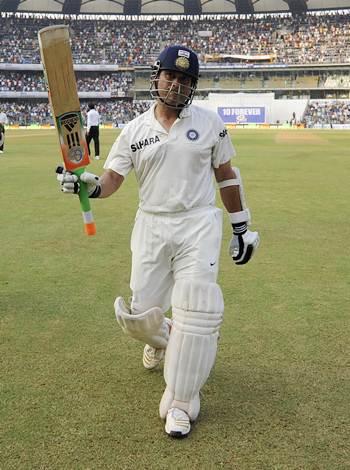 Cricket's modern Don, the irresistible Sachin Tendulkar, was also given a warm, standing ovation by everyone present at the Wankhede stadium on Thursday, including the otherwise tough-as-nail media, when he stepped out from the pavilion to bat for the last time for his country in any form of cricket.
Like Bradman, the little big Indian was also expected to play a big innings, even score a trademark Tendulkar ton, in his farewell innings.
Unlike in Bradman's case, the pressure of performing was manifold on Tendulkar. Not only was he playing in cricket-crazy India but in his own hometown on this occasion and
the madness surrounding him since he has announced his retirement is simply unbelievable, not just in Mumbai. The expectations were obviously and understandably very high of Tendulkar. And he did not disappoint anybody save the Caribbeans, who left no stone unturned to get him. So much so, pace ace Tino Best even attempted a couple of nasty bouncers at him towards the close of play. But Tendulkar was the picture of confidence and concentration, not missing a single opportunity to punish any loose delivery the West Indian speedsters and spinners bowled to him.
- Kailash Kher's Sachin anthem
He has batted brilliantly so far and his unconquered 38 is already a gem of an innings, full of exquisite cricketing shots. He found an ideal partner in young Cheteshwar Pujara, who has given him perfect, solid company at the other end and matched him both in approach and style.
The way Tendulkar batted on Thursday, there are reasons for his legions of fans to positively hope that he will give them the best possible farewell gift in the form of a century.
On his part, the maestro has also appeared very determined to make his last hurrah memorable, which means a grand innings. Already the signs are auspicious for India and ominous for the West Indies.
Anything could happen on Friday, as both Tendulkar and Pujara are well set and have so far batted as if they have the measure of the Caribbean fast and slow bowlers. The chances are that Tendulkar, who made a huge impression on Bradman during his prime, will essay a century in his final Test, having already set the tempo for that, and make up for what the Australian could not.
And Pujara, too, might.
It must also be mentioned that the way Tendulkar and Pujara have batted together in this Test so far, you could not help feeling that while one legend has spread his lustre for the last time on a cricket field, another legend-in-the making has given ample proof that Indian batting is in safe hands of its bright young brigade.
Image: Sachin Tendulkar on Day 1 of the second Test against the West Indies
Photograph: BCCI