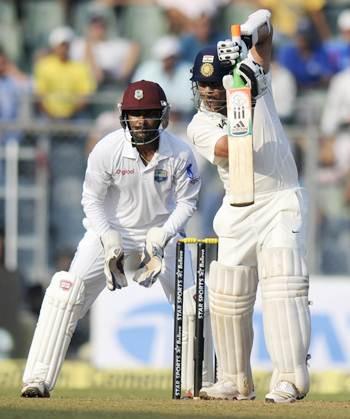 The second Test between India and West Indies, which started in Mumbai on Thursday, will solely be remembered only for one man.
The match is the 200th and final one of Sachin Tendulkar's cricketing career, and it came as no surprise that every other player's effort was overshadowed by the batting icon.
Tendulkar ended the day on 38 not out, hitting six sparkling boundaries, while also displaying solid defence with some positive footwork.
The master batsman enthralled his fans for 82 minutes, which included 73 balls, before stumps were drawn for the opening day.
Here's a look at how Tendulkar's innings panned out:
Shane Shillingford 1st ball: He started his innings by watchfully playing the ball on the leg side.

Shane Shillingford 2nd: Pushed off the back-foot to silly point

Shane Shillingford 3rd: Slog sweep got him off the mark with a single to fine leg. (1)

Shane Shillingford 4th: Defended off the backfoot.

Shane Shillingford 5th: Driven to extra-cover for a single. (1)

Sheldon Gabriel 6th: Compact forward defence.

Sheldon Gabriel 7th: Driven to cover but could not beat the fielder.

Sheldon Gabriel 8th: Left alone outside the off-stump.

Sheldon Gabriel 9th: Tucked the pacer to fine-leg for a single, his second run. (1)

Shane Shillingford 10th: Sharp turner hits on right pad
- - Postcard for Sachin

Shane Shillingford 11th: Rocks back, punches through point for four, his first boundary of the innings. (4)

Shane Shillingford 12th: Blocked on the backfoot.

Shane Shillingford 13th: Worked away to square-leg for one. (1)

Shane Shillingford 14th: Punched past mid-off with his trademark straight drive for a four. (4)

Sheldon Gabriel 15th: Driven through the cover region for a four. (4)

Sheldon Gabriel 16th: Defended off the front-foot.

Shane Shillingford 17th: Another confident forward defensive shot.

Shane Shillingford 18th: Went back and defended a short of good length delivery on the backfoot.

Shane Shillingford 19th: The ball slipped down the leg side and Tendulkar was content to let it go as it went for four leg byes.

Shane Shillingford 20th: Worked away to the leg side for a single. (1)

Marlon Samuels 21st: Short ball, hit to long-on for a single. (1)

Shane Shillingford 22nd: Defended off the back foot.

Shane Shillingford 23rd: Defended off the front foot.

Shane Shillingford 24th: Leading edge which falls on the offside.

Shane Shillingford 25th: Defended the doosra which went straight.

Shane Shillingford 26th: Worked away on back foot to short-leg.

Shane Shillingford 27th: Turned past leg gully for a single. (1)

Marlon Samuels 28th: Driven through the covers for single. (1)

Marlon Samuels 29th: Defended off the backfoot to mid-on.

Marlon Samuels 30th: Went back and cut to point for a single. (1)

Shane Shillingford 31st: Pushed to point for a single. (1)

Shane Shillingford 32nd: Perfect front foot defence, his feet to the pitch and head in line.

Shane Shillingford 33rd: Gets a single on the leg side. (1)

Marlon Samuels 34th: Punched to mid-off for a single. (1)

Marlon Samuels 35th: Defended off the front-foot.

Marlon Samuels 36th: Blocked off the backfoot.

Marlon Samuels 37th: Blocked off the front foot to covers.

Marlon Samuels 38th: Another forward defence shot.

Shane Shillingford 39th: Worked away on the leg side.

Shane Shillingford 40th: Defended on the frontfoot.

Shane Shillingford 41st: A bit short as Tendulkar turns it to square leg for a single. (1)

Marlon Samuels 42nd: Turned to short leg.

Marlon Samuels 43rd: Stout forward defence

Marlon Samuels 44th: Blocked with a nice forward defensive shot.

Marlon Samuels 45th: Flicked past fine-leg for four. (4)

Marlon Samuels 46th: Defended on the front-foot.

Marlon Samuels 47th: Defended on the front-foot.

Shane Shillingford 48th: Solid front foot defence

Shane Shillingford 49th: Worked away to short mid-wicket

Shane Shillingford 50th: Reads the doosra and blocks it on the backfoot

Shane Shillingford 51st: Beaten with a straighter one but no damage.

Marlon Samuels 52nd: Cut off the back foot through cover point for a four. (4)

Marlon Samuels 53rd: Quicker delivery defended on the backfoot.

Marlon Samuels 54th: Driven to mid-on.

Shane Shillingford 55th: Down the leg side, offers no shot.

Shane Shillingford 56th: Front foot defence

Shane Shillingford 57th: He defends off the front-foot.

Shane Shillingford 58th: Lunges forward, works to short-leg

Darren Sammy 59th: Majestic on drive for four with a straight face of the bat. (4)

Darren Sammy 60th: Pushed to deep point for a single. (1)

Darren Sammy 61st: Blocked on the front-foot

Darren Sammy 62nd: Defended on the front-foot.

Darren Sammy 63rd: Defended on half stride.

Tino Best 64th: Negotiated on the front-foot

Tino Best 65th: Offers no shot to one outside the off-stump.

Tino Best 66th: Ducks under a bouncer.

Tino Best 67th: Defends a short ball on the off-stump.

Tino Best 68th: Leaves a short ball on the off-stump.

Darren Sammy 69th: Again offers no shot to one outside the off-stump.

Darren Sammy 70th: Content to play for stumps as he lets another one go.

Darren Sammy 71st: Defended on the front-foot.

Darren Sammy 72nd: Lets it go through to the wicketkeeper.

Darren Sammy 73rd: Confidently defended to point to end play on Day 1
Image: Sachin Tendulkar during his knock on Day 1 of the second Test against the West Indies at the Wankhede stadium
Photograph: BCCI