"Our batsmen are not scoring runs and that's a concern," said Virender Sehwag while assessing the Indian collapse on Day Four of the third Test against England at the Eden Gardens.
- PHOTOS: Ashwin scores half-century to delay inevitable
The opener is known to speak his mind and at the post-match presser on Saturday it was no different.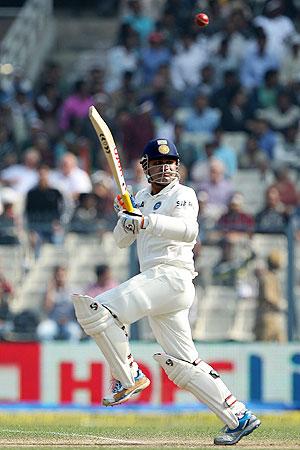 "In this series, we have not put runs on the board, especially in the last two Tests," he continued, adding, "It would have been a different ballgame had we put 400-500 on the board.
"Our bowlers would have got the time to bundle them out. But it's difficult for them if we get out for 200 or 300 odd runs.
"In Ahmedabad we put 500-plus runs on the board and we won it."
Having fallen behind by 207 runs in the first essay, the home team started their second innings well, with Sehwag (49) and Gautam Gambhir (40) putting on 86 runs for the opening wicket.
However, once Sehwag fell, bowled by Graeme Swann in the first ball after lunch, the Indian batting suffered a familiar collapse and slumped to 122 for six, before a rearguard resistance by R Ashwin (83 not out) helped them avoid the ignominy of an innings defeat.
"We are very much disappointed," admitted Sehwag.
"The wicket was not that bad to lose six wickets in a session. In fact if you apply yourself on this wicket, it's not that difficult to score runs. The key was the patience. And you can say that we did not show enough patience unlike their batsmen," he added.
The 34-year-old was fulsome in his praise for Ashwin.
"He knows how to score runs and he's utilising all his abilities," he observed.
With just a wicket separating England from a second successive win, Sehwag looked forward to saving the series in the fourth and final Test in Nagpur.
"We have to work hard to bounce back in the next game," he said, before adding as an afterthought, "We can just hope that something happens tomorrow and we're able to draw the Test.
"Only God, can help us."
God, are you listening?
Photograph: BCCI