James Anderson's successful execution of reverse swing has made Indian opener Gautam Gambhir believe that his senior colleague Zaheer Khan will perform even better as he is a bigger exponent of the art.
Anderson got the ball to reverse consistently in the post tea session that saw England claiming three wickets to leave India tottering at 273 for seven at stumps on Day 1 of the third Test in Kolkata.
"We have got Zaheer and Ishant [Sharma] who can reverse the ball really well. If they are on song, it's going to be difficult for England as well," said Gambhir on Wednesday.
"Zaheer Khan is a master of reverse swing. If he gets going I think it would be worrying for England. Hopefully, Zaheer and Ishant can do the job for us and play a big role for India. This is a wicket which will have something for everyone. It has carry, and sometimes the ball remains up and down," he added.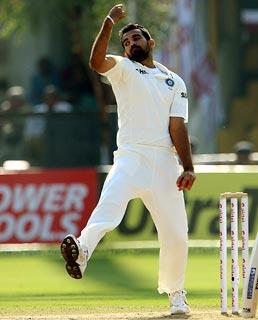 Praising Anderson (3 for 68), Gambhir said the English pacer was hiding the ball well as he dismissed Sachin Tendulkar and Ravichandran Ashwin with reverse swings.
"He didn't give loose deliveries. It was reversing and he was hiding the shine as well. It really gets difficult when someone hides the ball as you're not able to see the shine of the ball and don't know which way it would go. Ultimately you have to play the ball late," explained the opening batsman.
Gambhir said that the match is currently evenly poised and if India can post a total around the 350-run mark it could turn out to be a good contest.
"I think we have lost two wickets more. The way Ashwin was batting, we could have continued a bit more. But it's part and parcel of the game. It was an even day... can't really say it can go England's way. If we can put 330-350 on the board it would be a good contest," he said.