Under-fire curator of the Eden Gardens, Prabir Mukherjee, has said he is not bothered about BCCI President N Srinivasan's reported unhappiness with the stadium's pitch for the ongoing third cricket Test.
There's speculation that Mukherjee's days as Eden's curator are numbered, as CAB might go for another local man after India-Pakistan's One-dayer on January 3.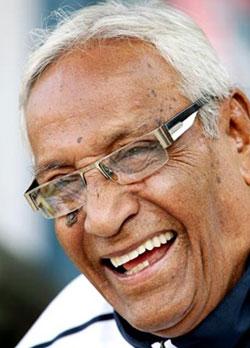 Unhappy with the functioning of outspoken Mukherjee, the Board supremo, in a brainstorming meeting on Friday, had reportedly asked CAB chief Jagmohan Dalmiya to make the 83-year-old fall in line or else get ready for a harsh step.
Mukherjee, however, remained unperturbed.
"Let Srinivasan say whatever he wants to. I don't listen to him. I don't even speak to the (CAB) President before preparing a wicket. I act as per my knowledge of the wicket. I also don't read the newspaper reports. Let them write what they want," Mukherjee said on Saturday.
Asked whether his days were numbered, Mukherjee said,
"It's a million dollar question!"
A CAB official, on condition of anonymity, had earlier divulged details of the meeting that took place between Srinivasan and Dalmiya.
"He (Srinivasan) was very unhappy with the Eden strip and asked CAB to make Mukherjee fall in line or else 'sack' him. BCCI would be forced to take a harsh step against the association -- like not granting any match to this venue, Srinivasan told CAB," the official said.
"CAB was out of favour for a long time, and now after we have buried the hatchet with the BCCI, we cannot afford to take them on once again.
"Srinivasan even said that these sort of wickets would not help India capitalise on home conditions and so that won't be tolerated. He said 'either convince him or sack him'," the official added.
The octogenarian had stirred up a controversy before the start of the third Test when he defied Dhoni's demand for a turner as the Board rushed in East Zone grounds and pitch committee representative Ashish Bhowmick to "assist" Mukherjee.
Mukherjee had called Dhoni "immoral and unethical" for asking for a rank-turner. Mukherjee had even asked for a written order from the BCCI to make a customised pitch.
Incidentally CAB is in a fix over Mukherjee's future as there's no suitable replacement available to handle the affairs of the pitch.
Photograph: BCCI