Even if Team India looks to regain lost momentum at the Eden Gardens, there isn't very goods news coming in from the camp ahead of the third Test.
On the eve of the game, it is not exactly a fit squad.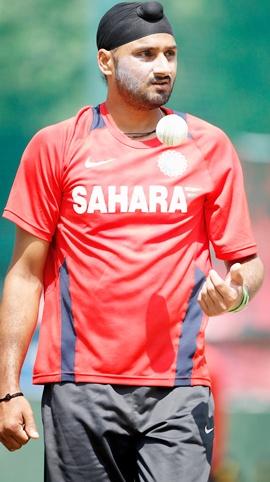 In fact, Harbhajan Singh didn't even turn up for the final practice session. The offie, after another disappointing effort with the ball at the Wankhede -- when India went into the match with three spinners -- is likely to be dropped for this Test.
-Third Test: Momentum is not with England, says Cook
-Dhoni remains defiant about turning track demand
-Will Eden Gardens see Dhoni equal Dada's record?
-Will India extend its 13-year unbeaten run at Eden?
Captain Dhoni refrained from spilling the beans, though.

"Bhajji is down with flu," he explained, adding, "that's why he decided to skip practice and take rest.

"How bad his condition is we will know once we get back."

The fact that Ishant Sharma did his bit, and more, during practice made it all the more obvious.
Photograph: Daniel Berehulak/Getty Images