England pacer Steven Finn on Saturday said that the 0-3 Test-series whitewash at the hands of Pakistan earlier this year was an eye-opener that prompted the team to work harder to adapt to the sub-continental conditions.
Stating that he is not surprised by the way England dominated in two games after India defeated them in the first Test at Ahmedabad, Finn said, "We felt as a team it's been coming almost. Since we got beaten 0-3 in Dubai (by Pakistan), it was a massive eye-opener for us.
- PHOTOS: Ashwin helps push match to Day 5
"Since then we have worked very hard on our games to be able to adapt to these conditions. And those are paying dividends in terms of results."
England are on the verge of taking a 2-1 lead in the four-match series after India were tottering at 239 for nine in their second innings, with just 32 runs ahead at the end of the fourth and penultimate day of the third Test in Kolkata.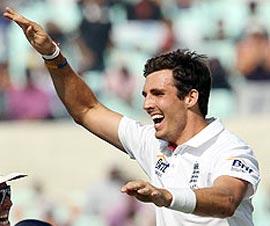 But Finn insisted that the visitors would guard against complacency even if they win on the fifth day, on Sunday.
"If we win tomorrow we will only be 2-1 up in the series, and going into the fourth Test it's important that we have no complacency, and keep working, keep looking to get better. The great point about this England side is that we are always looking to get better," he said.
Asked about the lessons learnt in Dubai, Finn explained: "Bowling straight was a big thing, being able to utilise the reverse swing, which I think we did well today and in the first innings as well. And when we were batting, being sensible.
"Taking calculated risks, keeping the game very simple, the most important thing is you keep it simple and not complicate it for yourself. We have had a very basic game plan when we came here and it's worked for us so far."
Praising off-spinner Graeme Swann, who gave the first breakthrough by castling Virender Sehwag, Finn said, "That ball from Swanney was an excellent one. That sort of kick-started us into the session. A bit of magic from (Ian) Bell to get that run-out. That really propelled us into the session.
"As a team we all back each other up, the fielding was excellent all day, the catching was good and I think we worked very well as a team today."
On a day the star-studded Indian batting flopped, losing six wickets for 36 runs, Ravichandran Ashwin shone with the bat with an unbeaten 83 that helped India avoid an innings defeat.
"Ashwin played very well. That resistance came with good batting. He played the reverse-sweep well, he was patient, took his runs when he needed to. And put in the man at the other end, and he was supported well. It was good batting, it was good Test cricket. A great day of Test cricket," he said.
Asked how frustrating it was to see Indians tail wag, he  aid: "At the beginning of the day if you had said India would be 30 ahead and nine wickets down, I'm sure we'd have taken it. Yeah, that last one hour and 45 minutes was frustrating for us but we stuck to our guns, thought we were patient  throughout the day.
"Thought we stuck to our bowling plans, and that paid dividends with those quick wickets in the middle session."
Even though Indian bowlers failed to deliver and looked inferior to England's bowling department, Finn feels that the  two sides are quite similar.
"I'd say they're quite similar bowling sides. We've been fortunate we've stuck to our plans very well. I thought India  bowled well, I thought they did well to get those four wickets this morning. It was good bowling and we certainly didn't want to lose those wickets that easily.
"Our batsmen played very well against the Indian bowlers. We were fortunate to get those couple of bits of magic in the middle session. Yes, it was. The way we kept the runs down to less than two an over is a good place to start."
Photograph: BCCI