A dogged half century by R Ashwin helped India avoid the ignominy of an innings defeat in the third Test against England at the Eden Gardens on Saturday.
Trailing by 207 runs in the first innings, India began well in their second before collapsing in dramatic fashion -- the slump seeing them going down from a comfortable 86 without loss to a precarious 122 for six.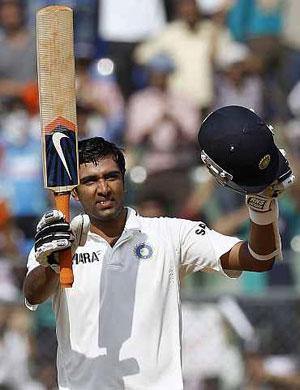 Ashwin's resilient innings (83 not out) though ensured England will have to bat again.
India ended Day Four on 239 for nine, leading England by 32 runs.
Earlier, it took the home team just 4.3 overs to wipe off the English tail, the visitors managing to add just 14 runs to their overnight score to be dismissed for 523, for a lead of 207 runs.
Pragyan Ojha was the pick of the Indian bowlers, with figures of four for 142, thereby taking his tally in the series to an impressive 17 wickets.
Morning session:
England innings (14 runs, 4.3 overs, four wickets):
Ojha struck early for India on the fourth morning, in the second ball, having Graeme Swann (21) caught by Virender Sehwag at first slip.
It was Ojha's fourth wicket of the innings. Swann's 46-ball knock was inclusive of three boundaries and he helped Matt Prior (41) put 57 runs for the seventh wicket.
Zaheer Khan bowled the second over, and struck second ball as well, having Prior caught behind. The England stumper's 49-ball innings included six boundaries and a hit that went the distance.
The catch was Dhoni's 200th in Test cricket.
A single by James Anderson (9) in the day's third over extended the English lead to 200. The batsman punched a Zaheer delivery through cover to get his first boundary. He followed it up with another three runs before R Ashwin had him caught by Sehwag at first slip in the next over.
Monty Panesar came and went, dismissed leg before first ball. The television replays showed he had nicked the ball. The lack of DRS had benefitted India again.
India innings (86 runs, 21 overs, no wickets):
Gautam Gambhir (40) hit the first ball of the Indian second innings (by Anderson) to the fence. Virender Sehwag (49) also began with a boundary, an edge off Steven Finn that went to the third man boundary.
The latter (when on seven) was fortunate to survive, having nicked Anderson, as the ball went between Swann and Cook to the boundary -- both failing to react on time. Sehwag celebrated the let off by hitting the next ball to the square leg fence.
Gambhir (on 13) also hit a Panesar delivery straight to Ian Bell at short leg, only for the latter to react late.
The duo punished England by ensuring the hosts lost no wicket before lunch, while also scoring at a brisk pace.
India headed back to the pavilion comfortably placed at 86 without loss (after 21 oves).
Post-lunch session (59 runs, 30 overs, six wickets):
Swann struck in the first ball after resumption, getting through Sehwag's defence.
The batsman missed the line completely and missed out what would have been a deserving half century.
Sehwag's 57-ball knock was inclusive of seven hits to the fence and he helped Gambhir put on 86 runs for the opening wicket.
Cheteshwar Pujara (8) didn't survive long either. However, to be fair to him he wasn't responsible for his dismissal -- Gambhir was. The left-hander got his partner out for a second time in the match. It was his call for an unnecessary single that gave Pujara no scope to outpace Ian Bell's throw.
Not that Gambhir took any responsibility himself, chasing down a wide delivery of Steven Finn and getting caught behind.
Sachin Tendulkar gave his critics more fodder to chew on, edging a Swann delivery straight to Jonathan Trott at first slip. He made only five and his dismissal gave Swann his second wicket.
The home side had slumped from 86 without loss to 107 four in less than 10 overs.
It would have been worse had Bell not let off Kohli (on four) at short leg, Finn being the unfortunate bowler. In fact, Kohli also survived a leg before appeal in the over.
England didn't have to wait long for another wicket though. In fact, they struck twice, through Anderson.
First he shattered Yuvraj Singh's (11) stumps with an inswinger and then returned to have captain MS Dhoni (0) caught at first slip by his English counterpart (Cook)
Virat Kohli (20) and R Ashwin ensured there was no more damage ahead of the interval. At tea, the home team had reached 145 for six (after 51 overs), still needing 62 runs to make the visitors bat again.
Post-tea session (94 runs, 32 overs, three wickets):
Ashwin began the final session on an empathic note, with a couple of boundaries off Panesar.
However, the joy was short-lived as Finn returned to strike twice in successive overs -- first having Kohli caught behind and then trapping Zaheer (0) plumb in front.
Ashwin was lucky to survive off Panesar shortly after, benefitting as Prior fumbled with the stumping.
He offered some rearguard resistance, his third Test fifty coupled with his 38-run stand for the ninth wicket with Ishant (10) and an unbeaten 42 runs for the final wicket with Ojha (3 not out), ensuring England would bat again.