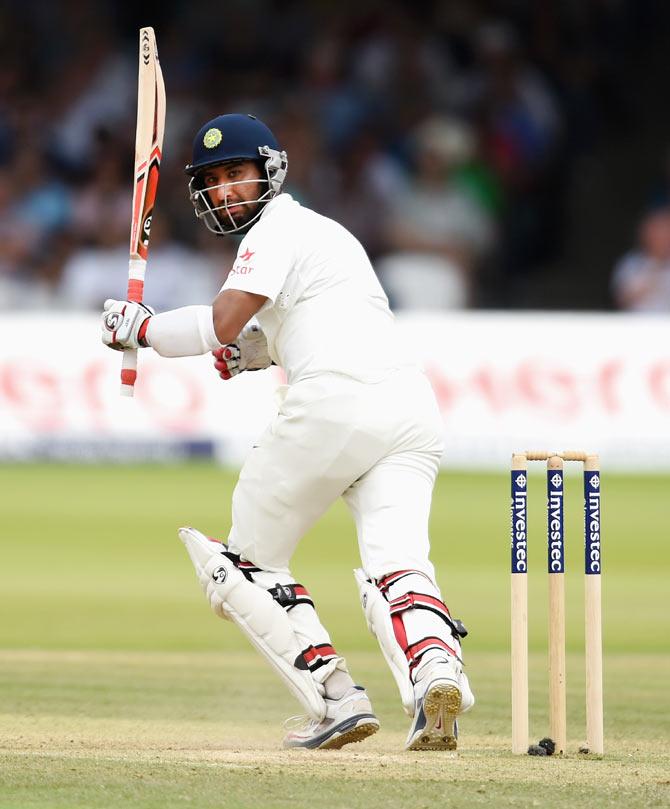 Cheteshwar Pujara. Photograph: Stu Forster/Getty Images
Cheteshwar Pujara's debut for Derbyshire County Cricket Club, for which he has recently signed a contract to play in the remainder of the English County Championship, has been delayed simply because he has not yet been granted a British work visa.
Consequently, he hasn't reached England and missed Derbyshire's crucial ongoing Division II match against Worcestershire at Derby in LV County Championship.
"We've completed all formalities regarding Cheteshwar's contract and also received necessary documents from Derbyshire County Cricket Club," the middle-order batsman's father and coach, Arvind Pujara, a former Ranji Trophy cricketer, told Rediff.com.
"Unfortunately, he has not yet been able to obtain his British work visa, though he has already applied for it after signing his contract papers with Derbyshire County Cricket Club."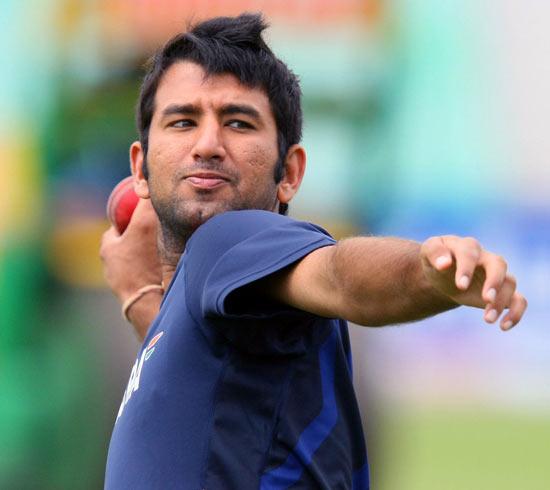 Cheteshwar Pujara. Photograph: Anesh Debiky/Gallo Images/Getty Images
Cheteshwar is "all ready" and "mentally and physically prepared" to leave for England once he gets the British work visa, according to his father.
"He missed Derbyshire's match versus Worcestershire, which got underway on August 31. But it couldn't be helped," said Arvind. "But I'm hoping he'll get his visa in a couple of days. He'll then head for England without further delay. I'm sure he'll play in Derbyshire's next game against Glamorgan at Cardiff, which begins on September 9."
Derbyshire will then play Surrey at The Oval in London on September 15 and Leicestershire at Derby on September 23.
"If all goes well, and if he gets to play in these three matches, Cheteshwar will still have a good feel of what professional English cricket is all about," said Cheteshwar's uncle, Bipin Pujara, also an ex-Ranji Trophy player.
"He isn't one of those who misses or squanders an opportunity. He is very keyed up and I'm sure he'll make the most of these three, or at least the last two, in the event of his British work visa still getting delayed, matches and impress everyone with his presence in the dressing room and performance on the field."
Interestingly, Cheteshwar's father is likely to accompany him to England, which Arvind considers the home of cricket, to see him make his Derbyshire debut and watch "from close quarters" how he fares in the new set-up and environment.
"I'm fairly keen to go to England and be with Cheteshwar when he plays a few games for Derbyshire," said Arvind. "He didn't have a good Test series against England and I was naturally a bit concerned. Being a cricketer and coach myself, I'd like to see how he adjusts his game, his technique and his approach on English pitches."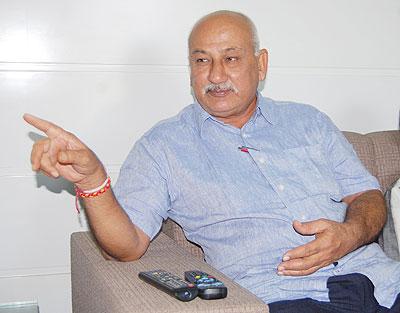 Cheteshwar Pujara's proud dad, Arvind Pujara. Photograph: Rediff Archives
Arvind emphasised that since Cheteshwar had a poor run in England it could be judged better only in England as to how and why he failed to live up to his reputation and expectation.
"Most of those batsmen who had a poor series in England may be different performers in India simply because of the vast difference between the pitches and weather conditions. Judging them on Indian pitches and against Indian bowlers you can't say exactly what went wrong with them. I think you can have a true or better picture only when you see them play or perform in England. You may be able to detect a flaw or two in their footwork, their technique, and then try and find ways to rectify them," he added.
Arvind has so far never been physically present at any Test or ODI in which Cheteshwar has played. Nor any junior international game, for that matter. He was not present even at Motera in Ahmedabad, when Cheteshwar scored a double hundred in the first Test against England in 2012.
It is only in Cheteshwar's native Rajkot, and that also from the sideline and sitting alone, that Arvind watched his son's few junior and first-class matches.
Of course, the father and son have had regular telephone talks and discussions whenever Cheteshwar is playing away from Rajkot, whether in India or abroad. And the conversations are mostly about Cheteshwar's batting and his performance in that match.
"We've had a lot of discussions about his and India's performance in the recent Test series since his return from England. He is a good, willing listener and always one of the firsts to admit his mistake," revealed Arvind.
"I think all he has to do is make a few minor adjustments, not changes, in his technique here and there and everything will be all right with him, again."
At Derby, Cheteshwar has already triggered great expectations. Besides his own image of a very consistent, heavy-scoring batsman obsessed with technical excellence and work ethic, the very fact that he has replaced a giant like Shivnarine Chanderpaul as Derbyshire's overseas pro has played a part in raising these expectations.