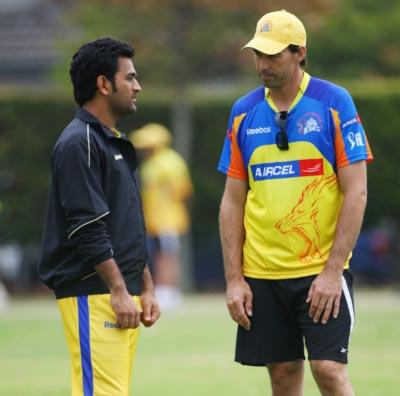 Former New Zealand captain and Chennai Super Kings coach Stephen Fleming offers his take on India's Test debacle in England and suggests remedial measures to revive the team's fortunes. Harish Kotian reports.
Chennai Super Kings coach Stephen Fleming says despite the debacle in the Test series in England India have to persist with Mahendra Singh Dhoni as captain because there is no one ready to replace him.
"It is fine captaining an IPL side, but there are a lot of questions to be asked. Is (Virat) Kohli better than Dhoni? Maybe a Dhoni under pressure is still your best option, he has got the experience. I know he has the respect of the dressing room… two important ingredients.
"What you need is the results to go your way and then everything is right," said Fleming in Mumbai, on Tuesday, on the sidelines of a media conference, organised by Education New Zealand.
Fleming is New Zealand's second-most capped Test player, with 111 appearances, and longest-serving and most successful captain, having led the country to 28 victories.
The 41-year-old has over the last few years worked closely with Dhoni at Chennai Super Kings, having also played for the franchise in 2008 before taking over as coach in 2009.
Reflecting on Dhoni's captaincy, he cited the example of England captain Alastair Cook, who was on the verge of getting the axe after the second Test at Lord's which India won by 95 runs. But after scoring two half-centuries in the third Test and leading his team to three successive victories, which helped England clinch the series 3-1, the pressure was off him.
"What I can say from experience is that when your team is not doing well you are under pressure as a captain. Now, how far that pressure goes, and how long it goes for, then it becomes an issue for your Board or your decision-makers.
"It is very easy to speculate after poor performances, but if you look at Cook at the start of the (just-concluded India Test) series, he was exactly under the same pressure as what Dhoni is under now. For things to reverse so quickly is somewhat astonishing. I think what the people are trying to get their heads around is as to how quickly the series changed, and quite rightly so are asking for answers," he said.
Fleming believes that calling for a captain's head is not the best solution in such a scenario, and the Board of Control for Cricket in India needs to investigate the reasons for the debacle and try and find a solution.
"It is fine to say the captain has got to go, but you are then giving the problem to someone else rather than finding a strong solution. Then you are just papering over the problem. He may still be the man for the job, but he may need to make some changes within and without, and most questions need to be asked rather than the emotional black-white 'he is got to go then what'," he said.
Fleming was regarded as one of the best captains of his time and earned lot of praise for his coaching after Chennai Super Kings won the Indian Premier League twice and the Champions League T20.
To a suggestion that he could be associated with the Indian coaching job in the event of coach Duncan Fletcher, under whom the team has fared poorly overseas in the last three years, getting the axe after the limited-overs' series in England, the left-hander was quick to dismiss his chances.
Asked whether he is open to coaching an international side, he replied: "Not at the moment. I have three young kids and they have demands on my time and they certainly won't let me even if I wanted to go and coach. I am very happy with the balance between the cricket fix, which is Chennai.
"I am working with some of the best players in the world. Being based in India I am very excited about it. I am very happy with the balance I have got at the moment. The way I see international coaching, it is similar to playing; it is 12 months of the year. I still haven't got it out of my system -- the amount of travelling we did when we played and the things you give up at home. So having this balance is perfect for me."
Fleming also believes that India could look at the option of keeping Test specialist players, like Cheteshwar Pujara and Murali Vijay, out of the Indian Premier League to preserve their game for the longer format. He feels that if such players are compensated adequately they could consider it.
"The thought about creating specialist Test players is an excellent one. A lot of countries are doing it, earmarking some players for one form. That is something India might need to consider.
"Keeping in mind that the IPL is such a good competition to play and to keep a player out of it, there might have to be the remuneration or another form because all players want to gravitate towards it and play it. So there will have to be a pretty strong directive to keep them away. But, then, again, becoming the Test player could be enough.
"It is something they need to consider. Pujara is that type of player; even Vijay. They are very talented players in the short form, but keeping them out of it would enhance their Test game probably."
Image: Stephen Fleming, right, and Mahendra Singh Dhoni
Photograph: Getty Images