Board of Control for Cricket in India's vice-president Rajeev Shukla reiterated on Saturday that the Board will appeal to the International Cricket Council against it's decision to penalise Indian all-rounder Ravindra Jadeja for his involvement in an incident with England pacer James Anderson during the first Test in Nottingham.

"The Board will go for appeal in ICC. We will put forward our case before ICC and we hope that justice will be done with Mr Jadeja. Right now it won't be appropriate for me to comment about it, but I think injustice has been meted out to Mr Jadeja and we will fight it out in the ICC," Shukla said in Mumbai.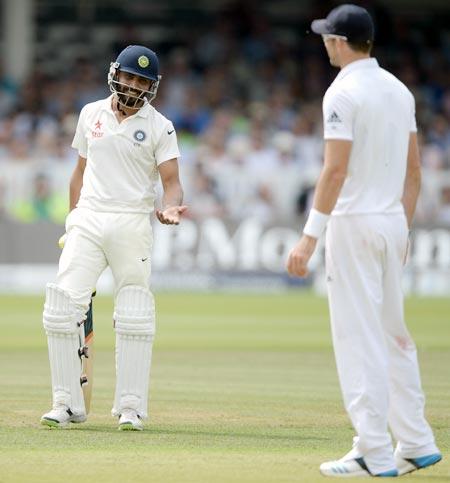 Jadeja was docked 50 per cent of his match fee by match referee David Boon for the incident with Anderson after the player was not found guilty of the original level 2 offence charged by the England team management.

The incident occurred during the lunch break at Nottingham when the Indians allege that Anderson "abused" and "pushed" Jadeja as the players were making their way into the dressing rooms.

The England team management, which initially described it as a "minor" incident, later filed a counter-charge.

The BCCI in a statement had said it is fully behind Jadeja after Boon found the player guilty of `conduct contrary to the spirit of the game'.

"The BCCI wishes to make it clear that it is not satisfied with the verdict. The BCCI reserves its right to appeal....The BCCI believes that Mr Ravindra Jadeja was not at fault, and supports him fully," it had said in a statement on Friday.

The ICC has set aside August 1 as the date to conduct the hearing of the complaint against Anderson, which will conducted by ICC judicial commissioner Gordon Lewis.
Anderson has been charged by India manager Sunil Dev under Level 3, Article 2.3.3 of the ICC Code of Conduct for Players and Player Support Personnel, which states: "Where the facts of the alleged incident are not adequately or clearly covered by any of the above offences, conduct that either: (a) is contrary to the spirit of the game; or (b) brings the game into disrepute".

All Level 3 breaches carry a penalty of between four and eight Suspension Points. Two suspension points equates to a ban of one Test, or two ODIs, depending on which type of match is scheduled next for the suspended player.
Image: Ravindra Jadeja of India speaks with James Anderson of England during day four of second Test at Lord's Cricket Ground on July 20, 2014.

Photograph: Gareth Copley/Getty Images