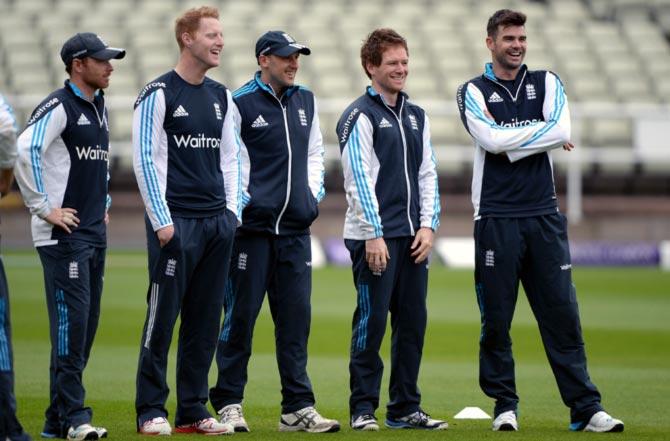 (Left to right) England players Ian Bell, Ben Stokes, James Tredwell, Eoin Morgan and James Anderson share a joke. Photograph: Gareth Copley/Getty Images
England trail India 0-2 in the five-match One-Day International series, but coach Peter Moores is still confident of a turnaround in his team's fortunes.

"We have had two disappointing games and haven't played well enough in both games, and we know that.

"So it's a chance again to come back and play better. In two or three different areas of the game we haven't really played as well as we wanted to," he said, ahead of Tuesday's fourth ODI in Birmingham.

The hosts struggled against spin at Nottingham, where the Indian slow bowlers strangled them and claimed six wickets.

Even in Cardiff, the Indian medium pacers made the initial breakthroughs, after England's new opening combination of Alastair Cook and Alex Hales produced two 50-plus stands in successive matches.

"The middle overs and playing spin are the areas where we want to improve. The key for the lads is to identify the areas where they want to get better and how they are going to go about it and then work very hard to get there," said the coach.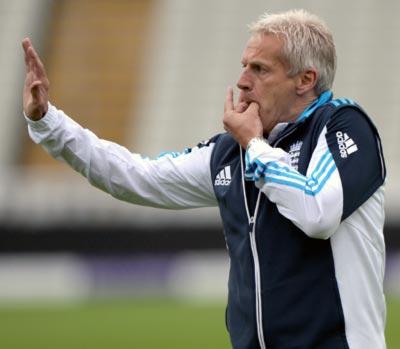 "We've got some good players of spin in that side; the players, like Ian Bell, Alastair Cook and Eoin Morgan, who are good players of spin. But we have to deliver in a one-day game and that, to me, is partly about skill and partly a mindset, which is something that obviously goes with the territory of the job of being a one-day international player," he added.
The two losses have thrown England's 2015 World Cup preparations off-track. It has become particularly tough for the hosts since ex-cricketers have been very vocal in their opinion of not having Cook as the ODI captain and replacing him with someone else for the quadrennial event in Australia-New Zealand.

"I don't mind people having a view. It's probably healthy that people have got a view on what they think is right and wrong. The key for the players is they've got a chance to make a difference, because they're in there and they're doing it. We have to get the right score and there are different ways of getting it.

"We know in that squad you've got some people who can score at a very high rate - Hales at the top, people like Morgan and (Jos) Buttler. You also see *(Joe) Root, who's growing as a player - we've seen him in Twenty20 score rapidly. All those players are clear in what they've got to do. But to get to that point, you've got to get in, still build an innings - we see that in all forms of the game," said Moores.
Image: England coach Peter Moores
Photograph: Gareth Copley/Getty Images