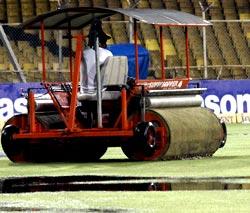 The opening day of the Duleep Trophy final between Noth Zone and South Zone in Kochi on Thursday was called off without a ball being bowled due to a wet outfield, caused by overnight rain.

Umpires Suresh Shastri and Sanjay Hazare decided to call off the day's play in the post-lunch session.

The weather has been inclement in Kochi for the last few days which lead to North winning their semi-final against
East by virtue of the toss as only two days of play were possible.
Since the match is being televised live, it was not possible to shift the venue due to logistical difficulties pertaining to the television coverage.
Even South Zone, who played both their matches in Chennai, won rain-interrupted games.
North's Harbhajan Singh, Virender Sehwag and Gautam Gambhir will be hoping the match can start off as quickly as possible so that they can get another opportunity to impress the selectors.