The Ontario government has given a million dollars to the Canadian Cricket Association now that Canada has qualified for the 2007 World Cup, to be held in the West Indies in March 2007.
At a fund-raising dinner to celebrate Canada's qualification for the World Cup, sponsored by St. Lucia's Department of Tourism, at Sagan Banquet Hall on October 5, Ontario Minister for Citizenship Mike Colle paid tribute to "St Lucia, Canada and our wonderful Canadian cricket team" and called the million-dollar donation an "investment in multi-culturalism".
He made the announcement in front of 500-plus guests at the banquet hall.
There are more people now playing cricket in Toronto than one can imagine, as more and more immigrants are coming from cricket-playing nations of India, Pakistan, Sri Lanka, Bangladesh, and Caribbean countries, said Colle.
He suggested that Ontarians/Canadians should travel to St Lucia in March to witness the Canadian team playing in the World Cup.
With Indian Consul-General Satish Mehta and his Pakistani counterpart Ghalib Iqbal present in the hall, Colle said, "50,000 people from India would go to the Caribbean islands to watch the World Cup."
On a second thought he said there will be many people from Pakistan also who are likely to go for the tournament.
Indo-Canadian businessman Ben Sennik, who is president of the CCA, explained how in 2003 Canada qualified for the World Cup, and it happened in South Africa.
It happened through Canada's "resounding victory over Bangladesh by 60 runs in Durban".
The second was a personal highlight when John Davison smashed the West Indian bowling for the fastest ever World Cup century -- 67 balls, with his total of 111 containing eight fours and six sixes.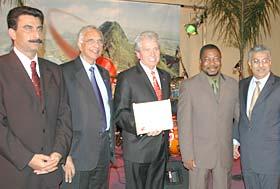 Canada is amongst the 16 participating nations in the World Cup. The teams are divided into four groups of four  with Canada placed in Group C with Kenya, England and New Zealand. They will be playing at St Lucia's Beausejour Stadium on March 14, 16 and 22 and that explains why St. Lucia's Tourism Department  volunteered  to  sponsor the fund-raising and celebratory dinner in Toronto.
Guests included Canada's High Commissioner to Barbados Michael C. Welsh, Ernest Hilaire, CEO of World Cup (St Lucia section), and a number of members of the Canadian World Cup team.
"We have been working closely with Ernest Hilaire in terms of many activities that we are going to host in St Lcuia," said Welsh 
"You have picked a very fitting slogan for the evening: 'The Perfect Match'.  I know that the team's visit to St Lucia will leave all of us with the best of memories, both for the high standard of cricket and equally, the hospitality and entertainment available throughout the celebrations in a place already world renowned for its natural beauty, its cultural vitality, and its charming people."
Hilaire called their Beausejour Cricket Ground and other core hosting facilities "virtually ready and we will offer a facility unsurpassed with match lighting and an indoor practice facility". 
"In my opinion St Lucia is the pearl of the islands in the West Indies," CCA president Sennik said. 
"It is blessed with nature's finest white sandy beaches, whispering palm trees. 500 people assembled here this evening all belong to the cricketing fraternity, and everyone is a potential visitor to St Lucia for the World Cup series."
Sennik said with a great deal of euphoria from their current associate membership, Canada is "determined to become a Test-playing Country by 2017" which he said is "no pipe dream as it is achievable and doable"