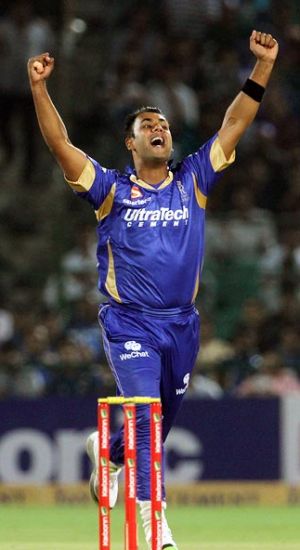 Karnataka all-rounder Stuart Binny said he has "matured" as a cricketer and his selection for the World Cup T20 in Bangladesh has come at a right time for him.
"I won't say it is pretty late in my career. I have peaked in this time of my career and I think I have matured as a cricketer right now and I am really looking forward to go out and perform for my country," Binny told reporters.
Binny, who scored a brilliant 122 for Karnataka against Rest of India in the Irani Cup tie, said IPL played vital role in transforming him into a quality player.
"IPL transformed me. I played along side international players. In two to three years after the IPL, I got my game and worked hard on my fitness to do well," he said.
Binny also credited his fine performance in the Ranji season for getting a call-up to India's limited overs squad.
The 29-year-old said he wasn't disappointed with not getting the enough chance in his debut match against New Zealand, where he did not get to bat and was called upon by skipper Mahendra Singh Dhoni to bowl just one over in Hamilton.
In fact, Binny said it was a special moment for him to make his international debut.
"I don't think it was disappointing in NZ. My debut was very special. Yes, I would have loved to bat in that game but the situation demanded a partnership. Also bowling one over what was needed from the captain's point of view."
Replying to a query, Binny said the main advise his father Roger Binny gave him was to enjoy cricket on the field and make sure to grab rare opportunities coming his way.
Asked about his team's strategy on the fourth day of their Irani Cup tie against ROI tomorrow, Binny said they don't have any plan cut-out but would like to pick up at least two wickets in the morning session as there is a bit of wear and tear on the wicket.
Karnataka scored a mammoth 606 in their first innings in reply to visitors' 201. The total gave Karnataka a huge first innings lead of 405 runs before they reduced ROI to 114 for three in their second innings, leaving the visitors trailing by 291 runs with seven wickets in hand.