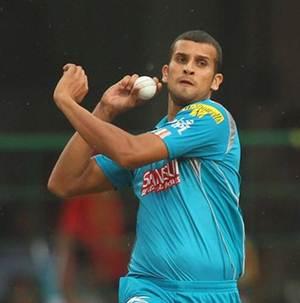 All-rounder Yuvraj Singh was dropped from India's ODI squad following a poor performance in South Africa even as rookies Ishwar Pandey and Stuart Binny were called up for next month's tour of New Zealand.
Yuvraj, who got out to a second-ball duck the only time he batted in the lost three-match ODI series against South Africa, was replaced by Stuart Binny, son of former India all-rounder Roger Binny.
Binny, 29, has played 53 first-class matches for Karnataka and scored 2714 runs, at an average of 34.79, besides taking 79 wickets.
Another surprise inclusion in the team was that of Madhya Pradesh seamer Ishwar Pandey, who was drafted into the ODI and Test squads.
Fit-again pacer Varun Aaron, 24, made a comeback to the ODI squad, replacing Mohit Sharma, who failed to impress in South Africa.
If he makes it to the final eleven for the five-match ODI series against New Zealand, it will be his first 50-over appearance for India after 2011.
The 17-man Test squad team was not altered too much, the only change being Pandey's inclusion in place of Pragyan Ojha.
The two-Test series starts February 10 in Auckland after a two-day practice match.
Interestingly, Ojha did not get a single game in the two-match series against South Africa which India lost 0-1.
The 24-year-old Ishwar has played 31 first-class matches, and has 131 wickets, at an average of 24.43.
The rest of the Test line-up was untouched, with Ravichandran Ashwin, who was unimpressive in South Africa, retaining his place despite the conditions in New Zealand being not too conducive for slow bowlers.
Mahendra Singh Dhoni will lead the team on the tour, which starts with the first One-Day International in Napier on January 19, 2014.
Test squad: M S Dhoni (captain), Shikhar Dhawan, Murali Vijay, Cheteshwar Pujara, Virat Kohli, Rohit Sharma, Ajinkya Rahane, Ravindra Jadeja, Zaheer Khan, Mohammed Shami, Ishant Sharma, Ambati Rayudu, Bhuvneshwar Kumar, Ravichandran Ashwin, Umesh Yadav, Wriddhiman Saha, Ishwar Pandey
ODI squad: M S Dhoni (captain), Shikhar Dhawan, Rohit Sharma, Virat Kohli, Ajinkya Rahane, Ambati Rayudu, Suresh Raina, Ravichandran Ashwin, Ravindra Jadeja, Bhuvneshwar Kumar, Mohammed Shami, Ishant Sharma, Amit Mishra, Ishwar Pandey, Stuart Binny, Varun Aaron.
The tour commences with the first ODI at Napier on January 19, 2014 and ends on February 18 after the second Test at Wellington, starting February 14.
While Murali Vijay, Ajinkya Rahane and Virat Kohli picked themselves after fine performances on the trying tour of South Africa, Shikhar Dhawan and Rohit Sharma got the selectors' nod despite coming a cropper.
Senior pacer Zaheer Khan will again spearhead the pace attack in Tests with Ishant Sharma, Bhuvneshwar Kumar, Umesh Yadav, Mohammed Shami and Pandey to support him on the seaming tracks of New Zealand.
The ODI squad also sports a pace-heavy look but the spearhead's role will be taken over by Ishant as Zaheer will not play in the five-match series.
The batting line-up remains more or less the same except for Binny coming in for Yuvraj. The specialist all-rounder's role continues to belong to Ravindra Jadeja, who shone with the ball but disappointed with the bat in South Africa.
New Zealand tour itinerary:
Jan 19: 1st ODI, Napier
Jan 22: 2nd ODI, Hamilton
Jan 25: 3rd ODI, Auckland
Jan 28: 4th ODI, Hamilton
Jan 31: 5th ODI, Wellington
Feb 2-3: Warm-up game, Whangarei
Feb 6-10: 1st Test, Auckland
Feb 14-18: 2nd Test, Wellington.
Image: Ishwar Pandey