The Australian team's policy of trying to play aggressive cricket has caused their downfall as they sit on the verge of defeat in the first Test match against India, all-rounder Ravindra Jadeja said in Chennai on Monday.
Australia are on the verge of losing the series-opener as they have a mere 40-run lead with just one wicket in hand, at stumps on the fourth day of the Test match.
Asked to compare the batting of England, who defeated India in the last home series, and the current Australian team, Jadeja said the tourists look to bat aggressively but it turned out to be the wrong move on a wicket supporting the spinners.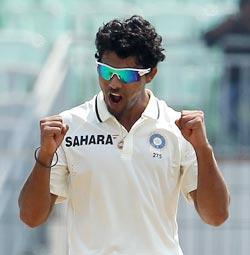 "Australian have this ego...they try to play more positive. If they have played three, four overs maiden, they show aggression, so that they don't come under pressure. But this wicket has been turning through the match, and we've bowled well… Ashwin has bowled well, Bhajju pa [Harbhajan Singh] has bowled well. Everyone has played his role," Jadeja said.
Ashwin took five wickets in the second innings and Harbhajan Singh scalped two.
"Now, we've got to take their last wicket quickly and the runs that are left to score, 50-55 or whatever, get them," Jadeja, who took two wickets in the second innings, said.
The all-rounder praised the pitch at the M A Chidamabram stadium, saying it still has something for fast bowlers despite favouring spinners.
"It's a good wicket. In Indian conditions, there are such wickets. In Test cricket, you win only if you get 20 wickets. And the centre of the wicket is not damaged, so it's good for fast bowlers. Whatever wear and tear has happened, it's happened due to the footmarks of the bowlers, and it's at the ends of the wicket. I think it's a good wicket for Test cricket," Jadeja said.
"There is turn in the wicket, everyone knows that, everyone can see that. But sometimes, there's more turn than usual, which you don't really need. Mainly, we'll have to bowl in the right areas."
Photograph: BCCI