If Australia seal the series against India in the Perth Test, Ben Hilfenhaus should be rested for the fourth and final match in Adelaide, said Allister de Winter, the coach who helped the fast bowler fine-tune his action.
De Winter, who was in contention to become Australia's bowling coach, said there was no need to play Hilfenhaus in Adelaide since the wicket there would not suit his bowling style.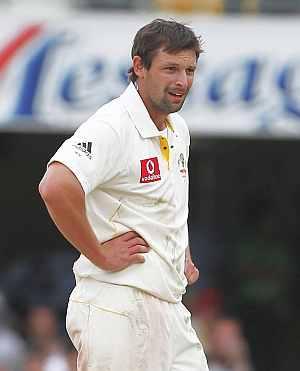 "He needs to play in Perth. Whether he needs to then go to Adelaide on the back of it would be a red flag for me," de Winter said.
"If he bowls 40 overs in Perth I'd be asking...whether he needs to play in Adelaide where the wicket doesn't suit him," de Winter was quoted as saying by Sydney Morning Herald.
Australia are leading the series 2-0 after wins in Melbourne and Sydney.
Hilfenhaus, the leading wicket-taker this series, has bowled 98 overs in the last two Tests -- more than any other Australian.
"If they win the series in Perth, they then have the opportunity to rest one or two of the fast bowlers. You might play Ryan Harris, you might play Mitchell Starc, you might play somebody else."
"That, to me, makes good management sense...so that way you start getting some experience into your bowlers outside your first pick without any risk of losing a series," de Winter said.
Talking about helping Hilfenhaus rebuild is action, de Winter said, "He had a very round arm which almost meant he swung the ball from the hand, so not even the very good players, the better domestic players were able to play him from the hand."
"He invested the first three months of the off-season in recovery and physical preparation, then he went down the path of the technical change we needed to do to get him back to what we thought was a Test match bowler.
"On the surface, it looks like we've managed to do that. It's been a great result, it's been a lot of hard work from Ben and demonstrates guys, even when they get towards 30, you can still fix them and get them back up and going again. It's a good story," he added.