With Ed Cowan making an impressive Test debut against India, discarded and disgruntled Australian opener Simon Katich on Monday said he is resigned to being on the sidelines as he has been replaced by a worthy successor.
Katich, who has been fuming ever since his contract was torn up in May, said he does not harbour hopes of making a comeback anymore.
"I've spoken about my international career recently, a lot has happened in the past five months, but I understand the selectors are probably going in a different direction,'' Katich told the Sydney Morning Herald.
"I'm fortunate that in the last few years I got back in the Test team. I've got to look at it positively. I've played 56 Tests instead of being stuck on 23 so I will always be grateful for that.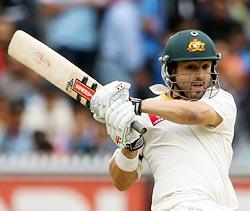 "There are lots of people worse off than me in the world. As much as it was disappointing to know that I probably wouldn't play Test cricket again, I've dealt with that, and I'll play cricket for whoever wants me for as long as I can," he added.
The 36-year-old said Cowan would be a success in the coming years.
"Ed Cowan is definitely ready for Test cricket. He's made a lot of runs this year, he deserves his chance, and he's got a big future ahead of him," he said.