Cricket Australia has said that it will not be divulging the nature of injuries sustained during a match unless the player is ruled out of the Test during the return Ashes series.
According to the Sydney Morning Herald, the reason of the secrecy is -- gaining competitive advantage for the Ashes.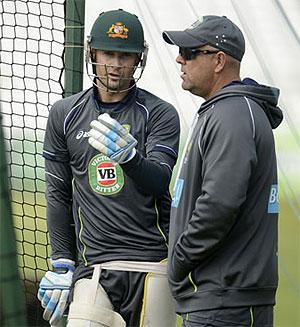 Ahead of the first Test against England in Brisbane on November 21, Michael Clarke's side is already down on numbers for fitness reasons, with fast bowlers Mitchell Starc, James Pattinson and Jackson Bird unavailable and the captain himself battling to overcome the latest flare-up of his chronic back problem.
Cricket Australia's general manager of team performance, Pat Howard said that if a player suffers an injury that rules him out of the match, they would disclose that but if it does not rule him out, they will have a chance to get a player up in a day or 36 hours to play.
He said that every sportsman has got a little niggle and in a Test match, a player can play after recovering in 24 hours.
Secrecy around injuries is not entirely new for Australia and at the MCG last year it did not emerge until the evening of day two of the second Test against Sri Lanka that Shane Watson had injured a calf that scratched him from the final match of that series in Sydney, the report added.
Watson sustained the injury while bowling on Boxing Day, but batted the following day, making 83.
The fact that players' fitness problems can be turned around so quickly in a five-day match with the help of the team's medical staff has convinced management that the less they say the better, according to the report.
The stance was endorsed by Cricket Australia chief executive James Sutherland when it was announced at a briefing with senior CA officials in Sydney.