After walking out of the squad in a huff for being dropped from the playing eleven in the league stages of the Ranji Trophy, former India [ Images ] pacer Ajit Agarkar [ Images ] has returned to the Mumbai [ Images ] team for its West Zone One-day League campaign.
Agarkar, who walked out of the team, after he was confined to the bench for the match against Orissa, has been named as one of the 25 probables picked by the Mumbai selectors for the tournament, to be held from February 22 to 26 in various grounds in Mumbai.
- Wish Yuvraj Singh a speedy recovery
"Agarkar has made himself available for the One-Day tournament, after he was asked whether he was ready to play. There's nothing more to this issue," Mumbai Cricket Association's joint secretary and selection panel convenor Nitin Dalal said.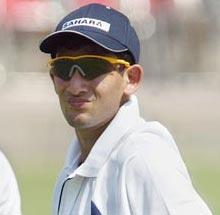 Interestingly, the move comes after Wasim Jaffer [ Images ], Mumbai's captain in their unsuccessful Ranji campaign, has stepped down from his post, but Dalal insisted nothing should be read to connect these two developments.
Jaffer has also found a spot in the list and Dalal said the new captain of the Mumbai team for the one-dayers would be announced on the 14th or 15th.
Mumbai one-day probables: Ajinkya Rahane [ Images ], Wasim Jaffer, Ajit Agarkar, Ramesh Powar [ Images ], Avishkar Salvi, Dhawal Kulkarni, Abhishek Nayar [ Images ], Anup Revandkar, Praful Waghela, Siddharth Chitnis, Iqbal Abdullah, Ankit Chavan, Suryakumar Yadav, Shoaib Shaikh, Parag Khanapurkar, Aditya Tare, Sushant Marathe, Kumar Subramanian, Balwinder Singh Sandhu (Jr.), Kshemal Waingankar, Akhil Herwadkar, Kaustubh Pawar, Usman Malvi, Santosh Shinde and Murtuza Hussain.