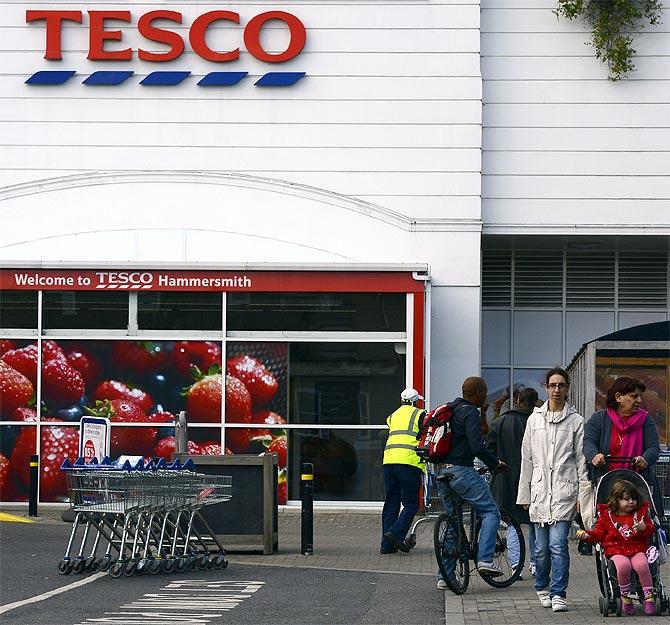 Tesco, which has sought the government's permission to buy 50 per cent stake in Tatas-owned Trent Hypermarket Ltd, will have to invest atleast $55 million in creation of fresh back-end infrastructure.
The UK-based firm's has applied to the Department of Industrial Policy and Promotion (DIPP) to invest $110 million to engage in multi-brand retail trading in partnership with Trent Ltd.
The application, however, has raised confusion as to whether such investments could be made in an existing domestic multi-brand retail firm under the current FDI policy.
Official sources said that as per the current policy, a global retailer would have to invest 50 per cent of its total investment in fresh back-end infrastructure, while it is free to invest remaining amount on either new stores or acquiring existing chain.
"Regarding creation of front end as an addition, it was clarified that the entity undertaking multi-brand retail trading could either create a new store or rent or purchase a front end store as per its requirements," a source said.
Industry experts point out that there is an ambiguity on the policy regarding this matter and it needs clarity.
Comments from Tesco on the issue could not be immediately obtained. Even Walmart had cited that the existing FDI norms played a part in its break-up with Bharti Enterprises in October.
A WalMart India spokesperson had said: "Under the requirements contained in the new FDI policy, Walmart could not invest in multi-brand retail through the existing Bharti Retail business."
The Department of Industrial Policy and Promotion (DIPP) under the Ministry of Commerce and Industry will scrutinize the Tesco's application and forward it soon to the Foreign Investment Promotion Board (FIPB) for its approval.
Tatas-owned Trent Hypermarket Ltd runs 16 outlets in the southern and western regions with backend support from Tesco.
Tesco plans to sell 14 categories of products, according to its application. The items to be sold at its stores include tea, coffee, vegetables, fruits, meat, fish, dairy products, wine, liquor, textiles, footwear, furniture, electronics and jewellery.
This is the first application for multi-brand retailing since the government allowed 51 per cent foreign direct investment in the segment in September last year. It comes two months after Wal-Mart Stores and Bharti Enterprises said they would go their separate ways for retail operations in India.
Tesco proposes to operate stores in India under various banners, including Star Bazaar, Star Daily and Star Market, with the tag line reading, 'A Tata and Tesco Enterprise.'