Telecom retailers are earning nearly Rs 7,700 crore (Rs 77 billion) annually as commissions from telcos, thanks to the huge monthly subscriber churn rate and the popularity of mobile number portability among users. There are nearly a million retailers who sell SIM cards across the country.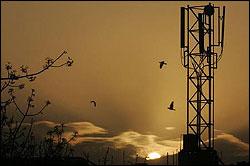 In FMCG such as soft drinks, for instance, the nearly three million retailers make around Rs 3,000 crore (Rs 30 billion) annually as their share or margin in the business, according to the industry. And, unlike in telecom, they have to share the costs of storage.
On the other side, mobile operators, engaged in cut-throat competition, fork out nearly Rs 13,000 crore (Rs 130 billion) annually in customer acquisition costs to ensure their subscriber numbers don't fall amid the churn. The amount is a significant 6.5 per cent of the total gross mobile revenue of operators put together (around Rs 2 lakh crore).
The churn rate is calculated as the number of subscribers who get out of an operator's network in a month as a percentage of its total subscriber base.
Net subscriber addition every month is two-three million. It slipped into the negative zone last month. Gross addition of subscribers by the industry every month ranges 75-80 million.
Says a worried Sanjay Kapoor, CEO of Bharti Airtel [ Get Quote ], the country's leading mobile player, "The high churn and gross additions model is unsustainable for the industry, as customer acquisition has become a monthly business. The industry is on a treadmill till it alters the model for long-term sustainability."
The average churn rate was just three per cent per month three-four years ago, despite 95 per cent of the subscriber base being pre-paid. At that time, there were about four operators. With 8-10 operators currently, it has gone up to a staggering 15-16 per cent per month.
Operators say of the average acquisition cost of a new subscriber at $2-2.5, about $1.5 is given as commission to the retail trade. They say much of the churn is induced by retailers, who shift pre-paid customers from one operator to another after a couple of months, depending on which one offers better commission.