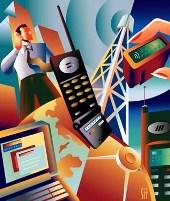 If you thought the big boys of the telecom industry -- Bharti Airtel and Vodafone -- had the highest share of active subscribers in their overall mobile subscriber base, think again.

Idea Cellular is at the top of this list. At 92.8 per cent, the company had the highest percentage of visitor local register subscribers in July.

From January 2011, it has consistently recorded monthly VLR of about 90 per cent. Idea is followed by Bharti and Vodafone.

Bharti had seen its VLR rise to about 92 per cent in January.

However, in July, this dropped to 90.5 per cent.

VLR subscribers are those whose phones are switched on -- they make or receive calls.

Bharat Sanchar Nigam Limited ranks ninth in the top-10 list.

With about a half of its customer base inactive, CDMA operator Sistema stood last in the list.

The Russian company, however, says its data subscribers aren't reflected in the VLR numbers.

A major concern is new companies such as Uninor and Sistema aren't alone in recording poor VLR numbers.

Some incumbents, too, recorded a poor VLR subscriber base.

These include Tata Teleservices, Aircel and BSNL.

Till July, together, these five companies increased their active subscriber base by a mere 22 million
through the past year.
The top four companies added 68 million subscribers in the same period.
This indicates most of these companies are roping in subscribers who use their numbers as a second SIM option, generating little or no revenue at all.
This presents a challenge for some companies that would bid for 2G telecom spectrum -- it might not be easy to draw paying subscribers from established operators.
Many telecom operators have, however, been consistently cleaning up their subscriber base to reduce the number of low- or non-paying customers.
The VLR of Vodafone, for instance, rose from 77.7 per cent in January 2011 to a healthy 89.2 per cent in July.
Tata Teleservices' VLR rose from about 50 per cent to about 61.7 per cent in the same period.
Reliance Communications has tried to clean up its inactive subscriber base in just a month, wiping 20 million subscribers off its records in July.
Now, securing spectrum is no longer related to subscriber numbers; it would be auctioned.
So, retaining inactive subscribers doesn't help.
Second, a Department of Telecommunications directive, effective November this year, would make know-your-customer norms for securing new connections strict.
This would also ensure a ban on retailers selling pre-activated SIMs, and stiff penalties for non-compliance.