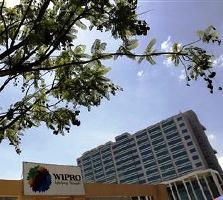 Shares of Wipro on Wednesday settled for the day down 4.41 per cent, thereby eroding as much as Rs 5,596 crore (Rs 55.96 billion) from its market capitalisation, as investors discounted the second quarter earnings numbers.

India's third largest software services exporter ended the day 4.41 per cent lower at Rs 492.20 on the BSE after falling 8.41 per cent to Rs 471.55 in intra-day trade.

At the National Stock Exchange, the stock settled 4.60 per cent down at Rs 491.10.

In terms of market capitalisation, Wipro currently stands at Rs 1,21,331 crore (Rs 1,213.31 billion) compared to Rs 1,26,928 crore (Rs 1,269.28 billion) on Tuesday.

Wipro posted a net profit from continuing operations at Rs 1,932.1 crore (Rs 19.32 billion) for the second quarter against Rs 1,510.5 crore (Rs 15.1 billion) in the year-ago period.

Meanwhile, the broader market was also settled in the negative territory with the 30-share benchmark index Sensex ending the day at 20,767.88 points, down 97.09
points.
In dollar terms, Wipro's net profit stood at $309 million in the second quarter this fiscal, while consolidated revenues were at $1.76 billion during the quarter.
Nomura in a research note said on Wednesday that for Wipro the September quarter was a good quarter, but its was still slower than its peer group companies.
"Wipro's results were in line on growth in 2Q and revenue growth guidance in 3Q and management outlook on demand was positive," Nomura said, adding that "we continue to have less conviction on Wipro's longer term sustainability of growth momentum."
It further noted that, Wipro has slower traction in developed markets, which are driving demand for its peer group and weaker positioning versus competition in BFSI, lower participation rates and well entrenched competition (TCS and HCLT) in IMS and slower traction in BPO (where management does not see material growth improvement in the near term).