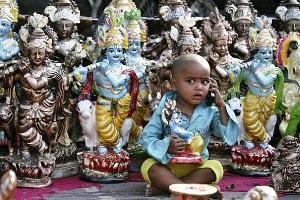 With aggressive bidding for spectrum in a few select circles for the 1,800 MHz band, the government got Rs 61,000 crore (Rs 610 billion) at the end of the ninth day of the auction.

Telcos have stopped bidding for the 900-MHz spectrum since Monday.

If the spectrum is sold at Tuesday's provisional price, the government's earning would be 61 per cent higher than the value of the entire spectrum auctioned at the reserve price (Rs 37,903 crore or Rs 379.03 billion).

The government has already secured more than what it had earned from the 3G auction in 2010 by selling 20 MHz of radiowave for Rs 50,968 crore (Rs 509.68 billion).

Assam is the most sought-after telecom circle for spectrum in the 1,800 MHz band with prices jumping 396.42
per cent, compared with the original reserve price.
Nine more circles where prices have increased are Maharashtra (67.8 per cent), Delhi (66.2 per cent), Gujarat (66.2 per cent), UP-west (53.1 per cent), Mumbai (31.4 per cent), Madhya Pradesh (17.2 per cent), West Bengal (17.1 per cent), Bihar (16.4 per cent), UP-east (4.9 per cent).
At the end of the ninth day, there was excess demand only in Assam and Madhya Pradesh circles.