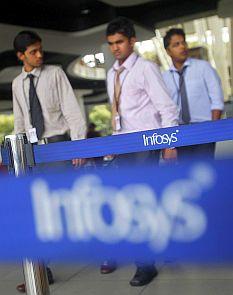 IT major Infosys on Thursday regained its status as Indian stock market's most influential stock in key benchmarks, pushing fast moving consumer goods giant ITC to the second position.

At close of trade on Thursday, Infosys commanded a weight of 8.67 per cent at the 50-share Nifty, while ITC had 8.66 per cent weight.

As per BSE website, Infosys is now the top holding in 30-share S&P BSE Sensex, followed by ITC.

Shares of Infosys ended 0.38 per cent higher at Rs 3,724.70, while ITC was down 0.81 per cent at the BSE.

Infosys has held the most influential status during various periods in the past.

It was toppled by ITC and RIL thereafter.

Weight of a stock is measured by the value of a company's free-float or non-promoter
shares that can be freely traded in the market.
Infosys stock rallied 8.63 per cent in the past six sessions.
The stock touched its 52-week high of Rs 3,737 On Thursday.
The country's second-largest software services firm Infosys recently posted a 21.4 per cent rise in net profit and raised its revenue growth outlook for this financial year.
Others in the top five are Reliance Industries Ltd, Tata Consultancy Services and Housing Development Finance Corp.
In terms of market capitalisation, TCS is the most valued company with a valuation of Rs 4,60,565 crore (Rs 4,605.65 billion), followed by RIL (Rs 2,86,036 crore or Rs 2,860.36 billion), ITC (Rs 2,58,459 crore), ONGC (Rs 2,45,542 crore) and Infosys (Rs 2,13,885 crore).