Companies routing investments through tax havens will find it difficult to evade taxes with the introduction of norms requiring them to sign an agreement to share banking and other information with the CBDT.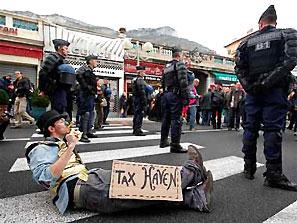 The Central Board of Direct Taxes (CBDT) recently notified rules under which an entity based in a "notified jurisdictional area" will have to give an undertaking to share information in a prescribed format.
The CBDT, however, is yet to specify the jurisdictions in which the provisions are applicable.
"This is a tacit warning from the government to tax payers to keep away from transacting with such jurisdictions (perceived tax havens); else they should be ready to be burdened with onerous requirements," said tax consultancy firm KPMG.
As per Form 10 FC, which was notified in pursuance of anti-avoidance measures introduced in the Finance Bill 2011, "the tax authorities will be able to get more information and records relating to the transactions entered into," said KPMG (India) Head of Transfer Pricing Rohan Phatarphekar.
Implementation of the provision "could potentially result in some countries being 'blacklisted' to send out signals to other foreign jurisdictions," he said.
However, he added that it seems unlikely the government will take any action against the more developed and important trading partners so as to avoid any adverse impact on India's relationship with them and on foreign direct investment flows into India.