Standard Chartered Bank has regained its position as the most profitable foreign bank in the country, according to people familiar with the development. The British lender had slipped behind rivals Hongkong and Shanghai Banking Corporation (HSBC) and Citibank after its India profit declined in 2011-12.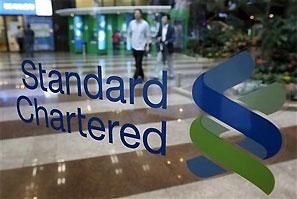 But in 2012-13, higher interest income, tight cost control and relatively lower loan impairment charges allowed Standard Chartered Bank to report a 71 per cent rise in net profit of its India branches.
The foreign lender's profit after tax was Rs 2,960 crore (Rs 29.6 billion) during the financial year. Compared to this, India net profit of HSBC and Citibank were Rs 1,935 crore (Rs 19.35 billion) and Rs 2,718 crore (Rs 27.18 billion), respectively. While Citibank's profit rose 41 per cent, for HSBC.

Spokespersons of Standard Chartered Bank and HSBC did not offer comments for this story. Citibank had announced its India earnings for 2012-13 earlier this month.

According to bankers, foreign lenders have shifted their focus on cost management to improve their earnings in the current uncertain macro-economic environment. For instance, Citibank's operating expense to income ratio in India improved to 40 per cent at the end of March from 44.5 per cent a year earlier, as the lender re-engineered its cost base.

Most foreign banks have started shedding high-cost bulk deposits and are exploring ways to expand the low-cost current account and savings account (Casa) deposit base. While Standard Chartered Bank and HSBC saw three per cent and seven per cent decline in deposits, for Citibank it rose only three per cent.

The share of Casa deposits in total deposits for Standard Chartered Bank, HSBC and Citibank were 38.2 per cent, 47.6 per cent and 53 per cent, respectively. Standard Chartered Bank's India advances increased 11 per cent, Citibank's 10 per cent and HSBC's one per cent. The net non-performing asset ratio of Citibank and Standard Chartered Bank deteriorated by 57-93 basis points, while HSBC improved it by 27 basis points.