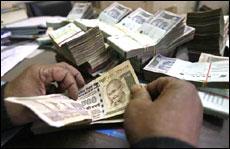 The Central Government employees and pensioners will be getting 7 per cent hike in their dearness allowance (DA) and dearness relief (DR) respectively with retrospective effect from January 1, 2012.
A 5-page "secret" note put up by the finance ministry for approval by the Union Cabinet on Friday says this would cost the exchequer an additional burden of Rs 7204.53 crore (Rs 72.04 billion), which includes Rs 3027.57 crore (Rs 30.27 billion) hike in case of the pensioners alone.
The note available with this correspondent says the central staff will now get 65 per cent of the basic pay as DA as against 58 per cent since July 1, 2011.
The DA and DR are revised twice a year on the basis of the percentage increase in 12 months average of the All India Consumer Price Index (CPI) for the industrial labour as mandated in the Sixth Pay Commission.