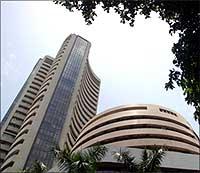 Markets bounced back after Wednesday's drubbing and closed near the day's high tracking firm Asian peers and buying interest in oil & gas shares.

The Nifty opened marginally higher and trended up, supported by buying in heavyweight Reliance Industries [ Get Quote ], ONGC [ Get Quote ], ICICI Bank [ Get Quote ] and Larsen & Tourbo.

The S&P CNX Nifty touched a high of 5422 in the afternoon trades and closed near day's high at 5,412, up 63 points. The Sensex was up 197 points, at 18,045.

Markets bounced ahead of expiry because they were oversold on the technical charts.

However, analysts expect the markets to remain weak going into May series because put call ratio, a ratio of the trading volume of put options to call options which is used to gauge investor sentiment is below 1.2 which indicates bearish sentiment.

Ashish Chaturmoha, Vice President (Derivatives & Technical Analyst) IIFLWealth said call writers may continue to remain aggressive in the market till Nifty trades below 5550 levels.

Food inflation data for week ending May 14 was reported at 8.55% as against 7.47% in the previous week. An upward trend in inflation may weaken the market sentiment and interest rate sensitive sectors may continue to underperform the market.

Foreign institutional investors have sold equities worth $1.74 billion (Rs 7,791 crore) in the Indian markets in the month of May, according to data compiled from the Securities & Exchange Board of India.

The FIIs have been net sellers because they are worried that high inflation and interest rates may dent country's growth prospects.

The Dollar which was weighing heavily on equities and commodities eased to 75.26 from the recent high of 76.2 bringing relief to commodity related sectors across Asia.

Hong Kong's Hang Seng was up 0.7% helped by resource shares.

The Nikkei Stock Average surged 1.5% supported by gains in energy shares.

China's Shanghai Composite index bucked trend, was off 0.2%.

Back in India BSE Oil & Gas shares were the top gainers, the index was up 2.9% on reports that government might reduce the subsidy burden if the government hikes diesel and cooking fuel prices.

ONGC rallied 4.4%, RIL added 2.9% on reports that the company will be free to price its gas for non-core users, Gail India [ Get Quote ] advanced 2.8% and Petronet LNG [ Get Quote ] was up 2.5%.

BSE metal shares also added sheen after Tata Steel [ Get Quote ] net profit surged 72% due to robust volume and spike in prices.

The management said that company plans to spend $2 billion capital expenditure in the Jamshedpur plant. The scrip closed up 2% at Rs 573.

Among the other metal stocks, Sesa Goa [ Get Quote ] gained 2.5% at Rs 277, as did SAIL [ Get Quote ] at Rs 143. Hindalco Industries [ Get Quote ], JSW Steel [ Get Quote ], Jindal Steel and Bhushsan Steel were the other significant gainers on the metal counter.

Among other stocks Cairn India [ Get Quote ] was also up 1.4% at Rs 343 after the firm's net profit zoomed 10-times on souring crude prices and consistent output from Rajasthan [ Images ] oil fields.

As investors shuffle positions from May to June series, strong rollovers were seen in Telecom, Textile, Power, FMCG & Cement sectors said Chaturmohta.

The BSE Consumer Durbales which attracted buying in the past few sessions succumbed to profit booking. The top losers were Titan Industries [ Get Quote ] at Rs 4,234 off 2.6%, Blue Star [ Get Quote ] at Rs 318 down 1.9% and Rajesh Exports [ Get Quote ] at Rs 89 down 0.5%.

Top gainers on the Sensex were ONGC at Rs 274 up more than 4%, followed by Hero Honda [ Images ] at Rs 1,873 up 4%, Sterlite Industries at Rs 168 and DLF at Rs 216, both up 3% each. RIL surged 3% to Rs 933, while Tata Motors [ Get Quote ], Cipla, Hindustan Unilever and L&T added 2% each.

The losers list was led by ITC at Rs 187 down 1%, while Infosys [ Get Quote ] at Rs 2,779 slipped 0.6%. HDFC [ Get Quote ], Reliance Communications [ Get Quote ], Bharti Airtel [ Get Quote ]  and Wipro [ Get Quote ] closed margially in the red.

From the broader markets midcap and smallcap indices under-performed the benchmark. The Mid-cap index was flat at 6,632, while the Small-cap index closed up 0.5% at 8,038.

Market breadth was positive; of 2,896 stocks traded on the BSE today, 1,496 advanced, while 1,275 declined.