Indian stock markets today plunged below 16,000-mark for the first time in four months as the rupee took a severe beating further to touch a record low of 54.46 after a spurt in capital outflow and problems in bourses over Eurozone crisis.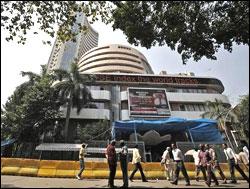 The BSE benchmark Sensex dipped below 16,000 level for the first time since January 12 in mid session trade today on aggressive selling by foreign funds as weak rupee raised concerns of slowing economic growth.
The Sensex, which had a brief recovery on Tuesday in last six sessions, fell further to trade 349.90 points, or 2.14 per cent to 15,978.35 at 1215 hrs.
Similarly, the broad-based National Stock Exchange index lost 101.65 points, or 2.05 per cent to 4,841.15 with stocks of auto, metal and power suffering major losses.
Brokers said selling pressure goatherd momentum as the weakening rupee fell to an all-time low of 54.46 against the US dollar.
Traders said said market sentiments were jolted by the fall in Asian markets after the Euro was pegged at a four-month low on news that Greece will go to polls triggering fears it may exit the Eurozone.