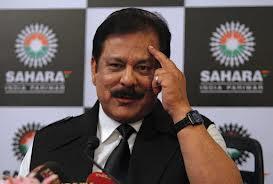 Sahara conglomerate would rather mortgage its trophy overseas hotel properties than sell them to raise the $1.7 billion in bail money for its jailed chairman, a senior company executive told Reuters.

Sahara Chairman Subrata Roy has been trying to find a buyer for the three hotels, which include New York's Plaza hotel and London's Grosvenor House, for the past month, using a makeshift office in his New Delhi jail to negotiate a deal.

On Friday, Roy sought permission from the Supreme Court to keep the office beyond a deadline that expires on Tuesday, his lawyers said, as talks with potential buyers continue.
The court is expected to rule on the request early next week.

The executive said Sahara had received offers from several buyers, including sovereign wealth funds, but had yet to take a decision. He declined to name any of potential buyers.

"Right now we are focusing more on raising funds through taking a loan on these properties," said the executive, who declined to be named as he was not authorised to speak to the media.

"The sale is the last priority. In case we would have to sell, we will sell over a period of time, but right now our focus is to raise money by mortgaging these assets rather than sell them," he added.

A spokesman for Sahara was not immediately available for a comment.

Roy has been held in a New Delhi jail, pending bail, for six months after he did not appear at a contempt hearing related to Sahara's failure to repay billions of dollars raised in outlawed bonds.

Last month, the court allowed Roy to get the office, which has facilities such as computers and assistants.

Sahara has not officially named any potential suitor for the hotels. Last month, a spokesman for the Sultan of Brunei dismissed a report by the Wall Street Journal online that an investment firm affiliated with him had made a $2 billion bid for the properties.

Roy, a flamboyant 66-year-old who has long been an enigmatic figure in Indian business circles, calls himself 'managing worker and chairman' of Sahara and chief guardian of the 'world's biggest family', overseeing businesses with almost a million staff and agents.

Image: Sahara Chief Subrata Roy