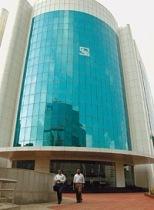 The Sahara group on Monday accused SEBI of acting in haste against it on the issue of refunding Rs 24,000 crore (Rs 240 billion) to investors and asked the Supreme Court to pass an order to help it get out of the imbroglio.
Two firms of the group submitted that there is no willful disobedience on their part in complying with the apex court's order on refunding the money to investors through SEBI and questioned the market regulator's conduct against them.
Appearing before a bench of justices K S Radhakrishnan and J S Khehar, Sahara's counsel Ram Jethmalani and Rajeev Dhavan submitted that SEBI refused to accept the documents, which were provided by them on time giving details of investors, and instead filed a contempt petition against them.
"It is a willful disobedience on the part of SEBI and it is because of it that there is such a situation," they submitted while saying that the apex court should pass order to help it get out of the "imbroglio".
"This case is going to stagnate if no consequential order is passed by the court. There was no intent to interfere with the course of justice," senior advocate Dhawan said.
The court was hearing three contempt petitions filed by SEBI against Sahara chief Subrata Roy, the two firms Sahara India Real Estate Corp Ltd (SIREC) and Sahara India Housing Investment Corp Ltd (SHIC) and their directors.
The apex court had on August 31 last year directed the two firms to refund the amount by November. The deadline was further extended and companies were directed to deposit Rs 5,120 crore (Rs 51.20 billion) immediately and Rs 10,000 crore (Rs 100 billion) in first week of January and remaining amount in first week of February.