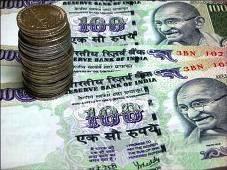 The rapid slide of the rupee against the dollar, rising inflation, burgeoning prices of essential commodities and another dose of price rise due to increase in petroleum products would be covered extensively in the economic resolution of the Bharatiya Janata Party's national executive at its two-day meeting slated to begin in Mumbai on Thursday.

In fact, BJP National Secretary Kirit Somaiya alleged the current rupee dollar fluctuation was a major scam and it needed to be investigated by an expert group on a par with special investigation team.

Somaiya ridiculed the Central government's argument that the fluctuation in rupee and dollar was due to external factors including Euro zone crisis.

He told Business Standard: "It requires a thorough inquiry and study why the rupee is falling to hit a new low of 56.19 to dollar on Wednesday noon.

"When the oil price is not rising so rapidly, when there has been a bumper crop and when there have not been major increase in imports why rupee is falling."

He reiterated the national executive would deliberate this issue and demand probe.

Further, BJP would also take up the issue of deposits of Indians in three major Swiss banks and the possibility of its transfer in the country in next few weeks.

"BJP will certainly demand the names of those depositors who have parked their money in three Swiss banks.

"We suspect in the present economic conditions these money will be transferred to India. These depositors are expected to earn huge profits amidst falling rupee," Somaiya said.

He added the BJP would also demand for disclosure of names of those Swiss banks.

On scams and its fall out, Somaiya said the they have been a route cause of inflation affecting the Indian economy.

He alleged that due to various scams the government system has been completely paralysed.

"It is quite ironical that the government was not doing enough to curb inflation.

"Another dose of price rise is expected after the much debated prices of petroleum products are increased in a due course of time," he added.

According to Somaiya, the government needs to explain why prices are rising when there has been a bumper crop and there was no space for its storage.

"It is really sad that inflation is expected to go double digit soon despite a world acclaimed economist Manmohan Singh is the Prime Minister who is accompanied by senior leaders like finance minister Pranab Mukherjee and home minister P Chidambaram.

"The party will discuss the issue threadbare and look into possible solutions," he informed.

Meanwhile, party's national executive member, who did not want to be identified, said the political resolution would cover issues like rising naxalite menace and the government's failure in its handling, the alleged injustice meted out against states by the Central government, government's inept handling of terrorism and the fiasco over the establishment of National Counter Terrorism Centre.
Share your ideas on how the rupee can be saved. See what others have to say.