Hours before United Progressive Alliance (UPA) Chairperson Sonia Gandhi unveiled the foundation stone for the nine-million-tonne refinery-cum-petrochemical complex of Hindustan Petroleum Corporation Ltd (HPCL) in Pachpadra (Barmer), a similar ceremony took place about 60 km away at Leelala village, too — albeit without VIPs.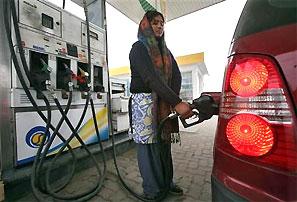 The latter is the hamlet that had earlier been chosen to house the Rs 37,230-crore (Rs 372.3 billion) HPCL project. But it had to be shifted to Pachpadra due to land acquisition problems. On Sunday, angry villagers of Leelala laid their own foundation stone — which had 'aam aadmi' inscribed as the name of the chief guest — still claiming the project was to come up in their village.

"When the project was announced, the land was priced at around Rs 20,000 a bigha. But we had to shift following demands of Rs 40-60 lakh a bigha by local people there," said a senior HPCL official.

While Leelala has yet to come to terms with the changed reality, Pachpadra is rejoicing in its new fame. "Even the local MLA had bought more than 45 acres at Leelala, playing a real-estate game.
Shifting the plant to Pachpadra is a master stroke from (CM Ashok) Gehlot against real estate players in Leelala. The new plant is entirely on government land," said a senior petroleum ministry official.

HPCL has already got possession of 4,800 acres in Pachpadra for just Rs 30 crore (Rs 300 million) — a saving of about Rs 1,000 crore (Rs 10 billion) for the firm. The state has offered the project 28 barrels of water per day from Indira Gandhi canal.

According to Gehlot, the area is likely to get an investment of at least Rs 70,000 crore (Rs 700 billion). Banners of industrial training institutions claiming 100 per cent jobs for youths at the refinery site underline his claims. "Real estate prices have gone up here, too, but we want the project here," says a resident.

"This would mean 25,000 jobs — direct and indirect. We promise not to forcibly acquire land," said Gandhi.

Barmer had risen to prominence in January 2004 after Cairn Energy struck oil in the Mangala field, the largest onshore oil discovery in India, in a little more than 20 years.
The idea of a refinery close to the wells that produced 175,000 barrels of crude oil per day was first suggested by Subir Raha, the then chairman and managing director of ONGC, which holds 30 per cent participating interest in Barmer's RJ-ON-90/1 block. Cairn India holds the remaining 70 per cent. ONGC had later shelved the project, calling it unviable.