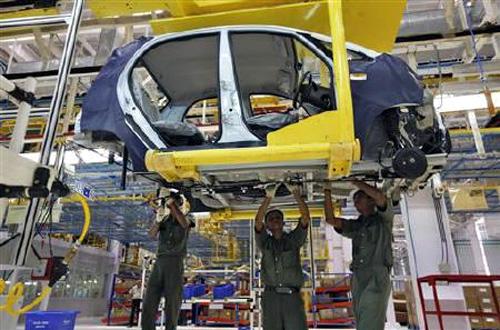 Private sector output in India expanded for the first time in 8 months in February as slump in the services sector moderated and manufacturing grew at a stronger pace, an HSBC survey said.
The HSBC India Composite Output Index, which maps both services and manufacturing, stood at 50.3 in February, slightly higher than 49.6 in January, indicating a fractional rate of expansion.
The latest growth was centred on the manufacturing sector, HSBC said. A PMI reading above 50 indicates growth while a lower reading means contraction.
The HSBC services business activity index rose from 48.3 in the previous month to 48.8 in February.
"Service sector activity continued to stabilise, but the PMI reading remains below the water line and point to weak growth conditions," HSBC Chief Economist for India & ASEAN Leif Eskesen said.
Weaker demand, a fragile economy and competitive pressures led to a decline in new business placed with Indian services firms, HSBC said.
On price rise the survey said that while inflation for input prices eased a bit, it picked up for prices charged as businesses passed on higher costs to clients.
The annual rate of inflation, based on the monthly wholesale price index, eased to a seven-month low of 5.05 per cent in January.
"Despite the weak growth backdrop, the RBI will have to keep its inflation guards up to address lingering inflation pressures," Eskesen said.
Reserve Bank of India (RBI) Governor Raghuram Rajan had raised the key policy rate by 0.25 per cent to 8 per cent in the third quarter review of monetary policy in a bid to curb inflation.
After Rajan took over as RBI Governor in September, the apex bank increased the key policy rate three times by 0.25 per cent each.
Moreover, fiscal policy tightening to meet the deficit target will hold back government spending. This suggests that growth will remain subdued in coming months, Eskesen added.