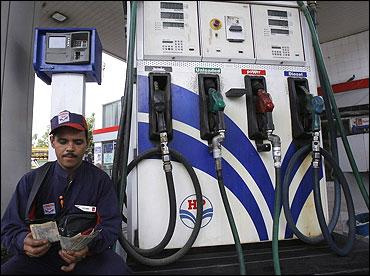 Under attack over a proposal to shut petrol pumps at night, Oil Minister M Veerappa Moily on Monday said the government is not considering any such move to taper fuel demand.
"We have already made it very clear it is not our idea. It is an idea which is coming from public and others. We have not taken any decision (on those suggestions). No decision will be taken to keep petrol pumps dry in any part of the country," he told reporters.
Shutting petrol pumps from 8 pm to 8 am was an idea mooted ahead of the ministry's plan to launch a massive fuel conservation drive from September 16 to cut fuel demand by 3 per cent and save an estimated Rs 16,000 crore or $2.5 billion in forex outgo.
"I have not mooted this proposal (to shut petrol pumps) at all," he said. The Oil Ministry also issued a press statement saying, "There is no proposal under consideration of the Government to allow sale of petroleum products from the retail outlets (petrol pumps) only during certain hours."
Moily said he wants to make the people aware that the country imports 80 per cent of its oil needs and fuel should be conserved because the country cannot afford to keep shelling out $170 billion year after year.
"We are coming with a mega conservation campaign, which will be launched on September 16. Before that, we are considering ideas about how this can be done. If BJP has some brilliant idea, they are most welcome to send it to us. We will certainly consider it," he said.
The Bharatiya Janata Party had attacked the proposal saying it was tantamount to imposing economic emergency on the people. "We are toying with the ideas (on conserving fuel) that have come to us. That doesn't mean we have accepted them or are enforcing shutdowns," Moily said.
Moily wants the oil import bill to be trimmed to help narrow the current account deficit, which is the excess of a country's imports of goods, services and transfers over all exports.
The depreciation of the rupee since last year has increased the cost of oil imports. "If we are successful in cutting the import bill by up to $25 billion, I would be contributing 1 per cent of the GDP," he said.
The minister said the Petroleum Conservation and Research Association under his ministry will launch a six-week campaign on September 16 aimed at saving petrol, diesel and LPG.
Moily had written a detailed note to Prime Minister Manmohan Singh on shaving off up to $20 billion of the $144.3 billion oil import bill of 2012-13.
The August 30 note, which does not talk of shutting petrol pumps at night, provides details of the conservation campaign and a plan to cut the import bill by purchasing oil from Iran, which can be paid for in rupees as the US and western sanctions have blocked other payment routes.
Moily said many austerity measures are being planned and urged the people to save fuel.
What measures should the government take to cut down the usage of fuel?
Share your views on the message board below.
Inputs: PTI