Ministry to propose a new subsidy mechanism to cap upstream firms' share.

Despite recent political reverses in the Assembly polls, the United Progressive Alliance (UPA) government is building ground for an increase in the price of diesel by a higher amount than earlier. The petroleum ministry is also planning a new subsidy-sharing mechanism — something that might come as relief to upstream oil companies like Oil and Natural Gas Corporation (ONGC), Oil India and GAIL India.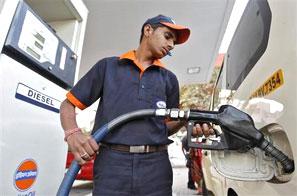 The ministry will move a Cabinet note for a higher increase in diesel price — in line with the Rs 5 raise recommended by the Kirit Parikh committee. The Parikh committee, which had filed its report towards the end of October, had also suggested a Rs 250 a cylinder increase in the price of domestic cooking gas and Rs 4 a litre in kerosene oil, with immediate effect.

The ministry would also recommend a policy to limit the share of upstream oil companies in the overall subsidy burden. According to officials, a formula will be proposed for upstream majors like ONGC, Oil India and GAIL. "It is upon the Cabinet to take a call on whether or not to go ahead with the price hike decision," said a senior petroleum ministry official.

One of the suggestions would be that the three companies be given an assured $65 a barrel on supply to oil-marketing companies (OMCs). Beyond $65 and up to $100 a barrel, they would have to offer an 85 per cent discount.

If the oil price went past $100, the discount would be 90 per cent on what they earned above $65, the official said.

The Parikh committee had suggested a slab-based formula for upstream share in subsidy. It had said the upstream contribution should be 40 per cent if crude oil prices were below $80 a barrel; 40 per cent if these were between $80-120 a barrel; and adding 25 basis points to the share for each $1 a barrel increase beyond $80 a barrel. If prices were above $120 a barrel, the upstream contribution was suggested at half the crude oil price.

The upstream majors' contribution to make up for underrecovery has been increasing over the years. While the overall underrecovery figures were Rs 1,61,000 crore last financial year, the upstream share was Rs 61,000 crore. In 2011-12, when the total underrecovery had stood at Rs 1,38,541 crore, their share was Rs 55,000 crore.

"Formalising the upstream share will give clarity to upstream companies' shareholders," said Deloitte India Senior Director Debashish Mishra. At present, the loss on account of selling diesel below market price stands at Rs 10.48 a litre. The figure for kerosene comes to Rs 36.2 a litre and that for cooking gas Rs 542.5 to a cylinder. In the current financial year, the OMCs would incur a revenue shortfall of around Rs 1,43,800 crore (Rs 1,438 billion) on sale of kerosene, cooking gas and diesel. Of this, Rs 74,700 crore (Rs 747 billion) would be accounted for by Indian Oil Corporation alone.