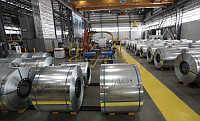 In September, manufacturing in India grew at the same pace as in August, according to the HSBC Purchasing Managers' Index. Manufacturing PMI for September stood at 52.8 points. A reading above 50 shows expansion, while one below it indicates contraction.
While rising inventories may exert pressure on manufacturing in the coming months, recent reform measures announced by the government would boost the sector.
Overall, the manufacturing sector is likely to remain subdued. Markit Economics, which compiled the survey, stated in September, stocks of finished goods rose for the eleventh consecutive month.
"Looking ahead, growth in the manufacturing sector is likely to remain subdued, though implementation of the recently announced reforms would help facilitate a gradual recovery in the second half of this financial year," said Leif Eskesen, chief economist for India & the Association of Southeast Asian Nations at HSBC.
Last month, the government had allowed foreign direct investment in the multi-brand retail sector, eased rules in the single-brand retail segment and permitted foreign airlines to invest in the Indian aviation sector.
In September,
manufacturing companies indicated an increase in purchasing. Also, export orders rose, the first time since June, while production rose more than in August. But since the PMI also considers factors such as employment and inflation, the index remained flat.
Official figures are, however, more subdued. Recent data showed manufacturing had contracted 0.2 per cent in July, against an expansion of 3.1 per cent a year earlier.
In the April-July period, it fell 0.6 per cent, against a growth of 6.5 per cent in the year-ago period. Official figures calculate growth annually, while PMI shows month-on-month movement. Also, the PMI is a survey based on about 500 private companies.
According to the survey, employment conditions remained strong, though the pace of hiring eased, while inflation was steep - the highest in three months. Panelists cited the increasing prices of raw materials and diesel as factors behind purchase cost inflation. The rise in output prices was lower.
In September, the government had increased diesel prices by Rs 5 a litre. According to estimates, this would lead to a 0.9 per cent rise in inflation. In August, wholesale price index-based inflation rose to 7.55 per cent, compared with 6.87 per cent in July.