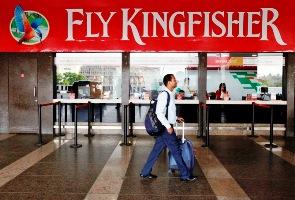 Shares of Kingfisher Airlines on Monday fell by nearly 5 per cent amid media reports saying its chief executive officer Sanjay Aggarwal has resigned.

Reacting to the buzz, shares of the grounded-carrier tanked 4.86 per cent to Rs 2.74 -- its lower circuit limit on the BSE.

At the NSE, the stock plunged 3.5 per cent to Rs 2.75.

The airline, headed by liquor-baron Vijay Mallya, has not flown since October 2012, after employees went on strike demanding salaries.

The ailing carrier on February 12 reported a net loss of Rs 822.42 crore (Rs 8.22 billion) for the third quarter ended December 31.

The airline had reported a loss of Rs 755.17 crore (Rs 7.55 billion)
a year earlier.
With planes remaining on the ground, the airline had nil sales in the reporting quarter, similar to zero sales a year ago.
Kingfisher had never reported a profit since starting operations in 2005.
Besides non-payment of salaries, the private carrier is saddled with huge debt and losses.
The airline has a debt of over Rs 7,200 crore (Rs 72 billion) towards lenders, mainly public sector banks since January 2011.