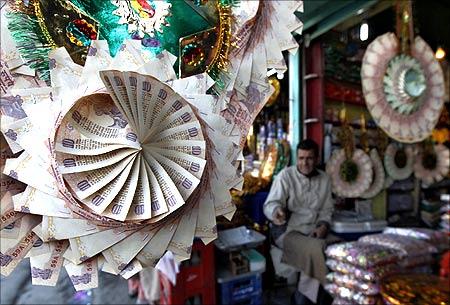 Institutional investors - both foreign and domestic - lapped up the government's big-ticket share sales on Friday, helping it add nearly Rs 9,000 crore to its revenue kitty.
The Centre sold a nine per cent stake in Axis Bank, held by the Specified Undertaking of UTI (Suuti), worth about Rs 5,500 crore, to a clutch of institutional investors through block trades on stock exchanges.

Also, it raised another Rs 3,000 crore by divesting stakes in a handful of central public-sector enterprises (CPSEs) through an exchange-traded fund (ETF).
Proceeds from the share sales are going to help the government contain its fiscal deficit for 2013-14 at the targetted 4.6 per cent of gross domestic product (GDP).
Suuti's 42.2 million shares in Axis Bank (out of the 97.22 million shares it holds) were sold at around Rs 1,315 apiece. State-owned insurer LIC bought a little over 8.5 million shares at Rs 1,313 each for Rs 1,100 crore.
Global investment bank Citigroup bought 3.8 million shares at Rs 1,316 apiece for Rs 503 crore, while Goldman Sachs bought 2.35 million shares at Rs 1,323 for Rs 300 crore. Other institutional investors picked up stakes in smaller quantities.
Independent market analyst S P Tulsian said the response to the Axis Bank share sale was good, considering that a large number of investors participated, despite the stock trading around the Rs 1,100 level only a month earlier.

On Friday, shares of the country's third-largest private lender, after dropping to a low of Rs 1,313.25 in intra-day trading on the BSE, rose 2.7 per cent from their previous close to end the day at Rs 1,393.4 apiece.
The Axis Bank shares are fairly priced at current market value, given that an average 12-month price target for the stock, according to consensus Bloomberg analyst estimates, is Rs 1,400. However, certain foreign brokerages like Deutsche Bank and Nomura have higher targets — of Rs 1,650 and Rs 1,500, respectively.
Meanwhile, the CPSE ETF mopped the targetted Rs 3,000 crore, with its New Fund Offer (NFO) getting oversubscribed by more than 30 per cent. The NFO saw bids of more than Rs 4,000 crore and about 20,000 retail applications, sources indicated.
Disinvestment Secretary Ravi Mathur told Business Standard the CPSE ETF was a "good hit" and helped the government meet its revised year's disinvestment target of Rs 16,000 crore.
The government, which used the ETF route to divest its stake for the first time this year, raised money by selling small quantities of shares in ten companies.
"There was limited time for the fund house to promote the product. So, it could not reach many retail investors. But most institutional investors found the scheme appealing," said Value Research chief Dhirendra Kumar.
The CPSE ETF was the last tranche of disinvestment for this financial year. Earlier this year, the government sold a Rs 5,000-crore stake in IndianOil to ONGC and Oil India. The government also offloaded nearly five per cent in BHEL to LIC through a block deal.