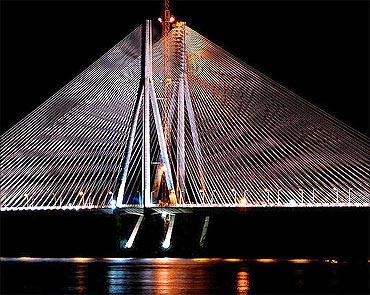 Infrastructure investments in politically-expedient sectors such as water supply, sanitation and irrigation have seen an increase during the first year of the 12th Five-Year Plan (2012-13 to 2016-17), but the same did not get replicated in other critical sectors.
According to an internal assessment by the Planning Commission, in 2012-13, investment in irrigation has been Rs 69,344 crore (at 2011-12 prices), against Rs 51,603 crore in 2011-12, while that in water supply and sanitation was Rs 31,201 crore in 2012-13 against Rs 25,761 crore in 2011-12.
However, total investment across all infrastructure sectors was Rs 534,645 crore in 2012-13, the least since 2010-11, mainly due to less than satisfactory performance in electricity, roads and bridges, telecommunications and oil & gas pipelines.
This puts serious question mark over the government's ambitious target to attract investment of Rs 56 lakh crore (at current prices) into the infrastructure sector during the 12th Five-Year Plan (2012-13 to 2016-17).
Gross domestic product grew at a decadal low of five per cent in 2012-13, impacting infra spending. And, 2013-14 is not expected to be much better, as overall economic sentiment is poor, a senior official said. Prime Minister Manmohan Singh had earlier said he expected economic growth in 2013-14 at five per cent, the same as in 2012-13.
The worst hit was telecommunications, where infra investment slid to Rs 36,963 crore in 2012-13, about 7.5 per cent lower than the Rs 39,926 crore the previous year. The spending in 2012-13 was 37.5 per cent of the year's target for the sector.
The other poor performer was oil and gas pipelines, where investments dipped to Rs 4,990 crore in 2012-13, about 39 per cent less than the Rs 8,218 crore a year before. This represented 44 per cent of the target.
The assessment showed infra investment dropped across almost all sectors — power, non-conventional energy, roads and bridges, railways, Mass Rapid Transit Systems, ports, airports — in 2012-13 below their 2011-12 levels.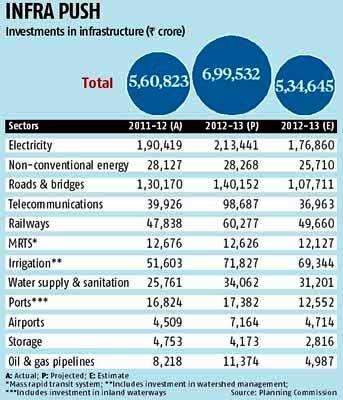 In 2012-13, private investment in infrastructure dropped to Rs 163,552 crore, the lowest since 2008-09. Also, investment from the central government in infra fell to Rs 184,960 crore, also least since 2008-09.
Manish Agarwal, executive director of PricewaterhouseCoopers told Business Standard: "Infra investments have come to a standstill in both the public and private sector due to issues like land acquisition and clearance. Second, there is significant private capital stuck in incomplete projects, which is not getting recycled. Third, in the private sector, the investment appetite has virtually vanished due to financial troubles and banks have become very cautious in lending for infra projects."
Of the Rs 56 lakh crore of investments in infra during the 12th Plan, the commission feels 48 per cent or Rs 27 lakh crore will have to come from the private sector.
Interestingly, the data showed while the central government's investment in infra declined in 2012-13, those by state governments rose, to Rs 186,132 crore, up seven per cent from the Rs 173,761 crore in the previous year. That of the Centre dipped 3.2 per cent from Rs 190,985 crore in 2011-12 to 184,960 crore in 2012-13.
In fact, state governments' investment in infra in 2012-13 was the highest compared to the previous six years. "With private investment not flowing in, the public investment tap has to open more. But state governments have financial limitations in investing in infrastructure; there are also competing demands on capital from social sectors, subsidies, etc," said Agarwal.
The commission did the assessment as preparatory work for the mid-term appraisal of the 12th Plan. Final work on the mid-term appraisal will be done by the new commission, to take over after the 2014 general elections.