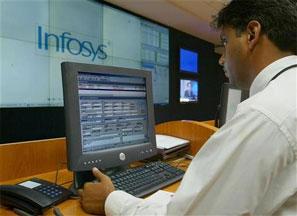 IT bellwether Infosys on Tuesday reclaimed the spot of being the most influential stock on the BSE index, racing past FMCG major ITC.
As per the exchanges site, Infosys is now the top stock on BSE's 30-share index Sensex, followed by ITC.
However, on the NSE, both ITC and Infosys had equal weight of 8.77 per cent.
Shares of Infosys rose by 0.15 per cent, while ITC lost 0.36 per cent on the BSE.
Diversified group ITC had yesterday surpassed Infosys to become the most influential stock on the Sensex.
On Thursday, Infosys had become the Indian stock market's most influential stock among the key benchmark scrips, pushing ITC to the second position.
Weight of a stock is measured by the value of a company's free-float or non-promoter shares that can be freely traded in the market.
Others in the top five are Reliance Industries Ltd, Tata Consultancy Services and Housing Development Finance Corp.
In terms of market capitalisation, TCS is the most valued company with a valuation of Rs 4,46,717 crore, followed by RIL (Rs 2,79,218 crore), ITC (Rs 2,61,077 crore), ONGC (Rs 2,45,499 crore) and Infosys (Rs 2,15,663 crore).