Inflation declined marginally to 7.45 per cent in October even though prices of food items like rice, wheat pulses and potato showed a rise giving virtually no respite to the common man battling price rise.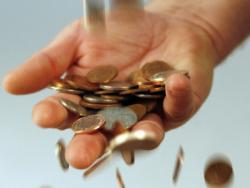 Inflation, as measured by the Wholesale Price Index (WPI), was 7.81 per cent in September. In October last year, it stood at a high of 9.87 per cent.

However, the moderation in the price rise comes amidst a string of disappointing economic data released on Monday. These included contraction in industrial output, and decline in exports along with rise in retail inflation, which dampened hopes of early economic revival.

Experts believe that stubborn inflation may not prompt the Reserve Bank to reduce lending rate in the upcoming mid-quarter review of the monetary policy on December 18.

"Inflation is still sticky at above 7 per cent. This does not provide sufficient comfort  for the RBI to lower the interest rate," said Rajiv Kumar, economist and former director of the Indian Council for Research on International Economic Relations (ICRIER).

There is still need to improve the supply side problems, he said.

India Inc is of the view that the decline in the rate of price rise should encourage RBI to cut interest rate that will lead to uptick in industrial activity.

"The inflation numbers are showing signs of moderation with figure coming down from 8 per cent in August 2012 to 7.81 per cent in September 2012 and further down to 7.45 per cent in October 2012. This should encourage RBI to fine tune the monetary policy with the view to bolster growth, particularly, that of the manufacturing sector," Ficci president R V Kanoria
said.
Bank of Baroda chief economist Rupa Rege Nitsure, however, said the Reserve Bank may wait till the headline inflation falls by 100 basis points more.
During its half-yearly monetary policy last month, the Reserve Bank had kept benchmark interest rate unchanged on concerns of persistent inflation.
Food inflation, as a category, declined to 6.62 per cent during the month, from 7.86 per cent in the previous month. Food articles have 14.3 per cent share in the WPI basket.
While wheat turned expensive by 19.78 per cent from 18.63 per cent in September, cereals became dearer by 14.35 per cent from 14.18 per cent during the period.
On year-on-year basis, potatoes were costlier by 49.13 per cent, pulses by 20 per cent and rice by 11.40 per cent.
However, vegetables prices declined by 7.45 per cent with onion falling by 8.99 per cent on an annual basis during the reported month.
For the fuel and power category, inflation moderated to 11.71 per cent from 11.88 per cent.
In the manufactured items category, prices of cotton textiles, man-made textile, iron and steel paper and paper products, rubber and plastic products rose relatively at a slower pace compared to the same month of the previous year.
The rate of price rise in the manufactured products was 5.95 per cent in October, as against 6.26 per cent in the previous month.
Inflation for August was revised upwards to 8.01 per cent from 7.55 per cent as per provisional estimates.
Retail inflation in October moved closer to the double-digit mark at 9.75 per cent. This was on account of rising prices of food items such as sugar, pulses, and vegetables besides clothing.
Consumer Price Index (CPI) stood at 9.73 per cent in September.