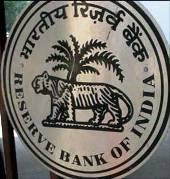 Tight liquidity conditions may continue to be tight for some more time, despite the cut in cash reserve ratio comes into effect from November 3.

According to bankers, this is because the currency demand during the festival season is expected to remain strong.

The Reserve Bank of India has reduced CRR -- the proportion of deposits that banks need to keep with the RBI as cash -- by 25 basis points (bps) to 4.25 per cent to ease liquidity tightness in the system.

According to market participants, unless government spending starts, the deficit may continue above RBI's comfort zone of +/- 1 per cent of net demand and time liabilities.

During the last fortnight of October, banks' daily borrowing from the repo window of the central bank -- a measure of liquidity tightness -- was over Rs 1 lakh crore (Rs 1 trillion) on average.

Today, however, bank borrowing came down to Rs 75,000 crore (Rs 750 billion).

"After the CRR cut comes into effect from November 3, LAF (liquidity adjustment facility) borrowing will come down only to the extent of Rs 17,000-18,000 crore (Rs 170-180 billion).

It will not come down more than that. LAF borrowing will hover around Rs 50,000-60,000 crore (Rs 500-600 billion) even after the CRR cuts comes into effect.

The reason why borrowings are high is that currency in circulation has gone up and government spending has slowed down, due to which money is not coming back into the system," said Mohan Shenoi, president (group treasury and global markets)
at Kotak Mahindra Bank.
The central bank's own estimate also suggest that liquidity deficit will continue as it is caused by structural issues such as widening of credit-deposit growth gap, apart from lower government spending and festival-related currency demand.
"We believe the constraints that are operating on the liquidity system will persist for a few more months.
"Other factors (apart from rise in government's cash balance) such as the wedge between the deposit and credit growth and even the demand for currency might persist beyond the festival season, because the opportunity cost of holding currency is low.
"So we expect that the constraints on liquidity will persist for some more months," RBI Governor D Subbarao said yesterday during his interaction with researchers and analysts.
Bankers expect that the central bank will conduct open-market operation to buy securities from them to infuse liquidity, if the deficit continues beyond the central bank's comfort zone.
The RBI has maintained that it will provide liquidity so that credit flow to the productive sectors are not hampered.