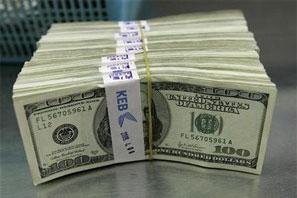 India's foreign exchange reserves strengthened by $544.7 million to $275.35 billion on a healthy increase in the core currency assets in the week ended September 13, Reserve Bank said.
The total reserves had dipped by $685.1 million to $274.81 billion in the previous reporting week.
Foreign currency assets (FCAs), a major component of the reserves, moved up by $500.5 million to $247.46 billion for the week ended September 13, the RBI said in its weekly statement.
FCAs, expressed in dollar terms, include the effect of appreciation or depreciation of the non-US currencies such as the euro, pound and yen, held in the reserves.
For the week, the gold reserves remained unchanged at $21.724 billion, the central bank said. The gold reserves were also unchanged in the previous reporting week.
The special drawing rights (SDRs) increased $30.3 million to $4.385 billion, while India's reserve position with the International Monetary Fund was up $13.9 million to $1.995 billion, the RBI data showed.