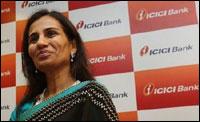 Largest private sector lender ICICI Bank on Thursday reported a 30 per cent jump in standalone net profit at Rs 2,250 crore (Rs 22.5 billion) in the December quarter against Rs 1,728 crore (Rs 17.28 billion) a year ago.
The consolidated net rose 22 per cent year-on-year to Rs 2,645 crore (Rs 26.45 billion) from Rs 2,174 crore (Rs 21.74 billion), the bank said in an exchange filing to the Bombay Stock Exchange.
The reporting quarter saw the city-based lender improving its net interest margin by 37 basis points to 3.07 per cent.
Advances rose 16 per cent to Rs 286,766 crore (Rs 2867.66 billion), led by a 17 per cent spike in retail advances to Rs 96,528 crore (Rs 965.28 billion). Net interest income rose 29 per cent to Rs 3,499 crore (Rs 34.99 billion) from Rs 2,712 crore (Rs 27.12 billion).
The net non-performing asset ratio improved to 0.64 per cent from 0.70 per cent a year ago. Sequentially too, it improved a bit from 0.66 per cent.
Capital adequacy ratio stood at 19.53 per cent with the tier-1 capital adequacy being at 13.25 per cent.