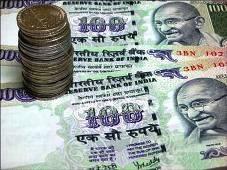 The rupee on Friday pared early gains to close 11 paise lower at 51.85 against the dollar on weakness in local shares amid fresh dollar demand from importers.
At the Interbank Foreign Exchange (Forex) market, the domestic unit commenced strong at 51.35 a dollar from its previous close of 51.74 on initial dollar selling by exporters and early rise in local stocks.
But it reversed gains and fell to a low of 52.03 on renewed dollar demand from importers, mainly oil refiners, and dollar short-covering by traders on hopes of a recovery in the US currency overseas, said forex dealers.
The rupee managed to recover some losses and ended 11 paise lower at 51.85, snapping a five-day upmove.
Meanwhile, the Indian stock market benchmark Sensex also broke its four-day upward trend by ending 119.69 points lower.
Helped by dollar inflows in anticipation of more big-ticket economic reforms by the government, rupee had risen by a whopping 177 paise in the past five sessions.
Forex experts said the dollar index, a gauge of six major global rivals, was marginally up ahead of US non-farm payroll data later in the evening while New York crude oil was quoting below USD 91 a barrel in Europe today.
"The rupee reversed its initial rise on wrong trades in Indian equity markets and some short covering ahead of the weekend and lacklustre global markets which are awaiting US job market data," said Pramit Brahmbhatt, CEO, Alpari Financial Services (India).
The rupee is seen loosing track with the global markets as we saw dollar index drifting down from 79.91 levels to 79.39 levels on other hand rupee depreciated from 51.34 to 52.03 levels, said Abhishek Goenka, Founder & CEO, India Forex Advisors.
Forex traders said there were deal-specific dollar outflows in the stock market that also pulled down the rupee.
The premium for the forward dollar recovered slightly on fresh payments by banks and corporates.
The benchmark six-month forward dollar premium payable in March settled better at 160-162 paise from Thursday's close of 159-161 paise.
The premium for far-forward contracts maturing in September also rose to 304-306 paise from 302-304 paise.
The RBI has fixed the reference rate for the US dollar at 51.6185 and for euro at 67.1735.
The rupee reacted downwards against the pound sterling to 83.89 from overnight close of 83.38 and also fell back against the euro to 67.45 from 67.05.
It also declined against the Japanese yen to 66.07 per 100 yen from previous close of 65.82.