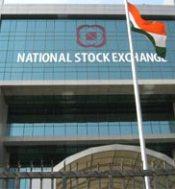 The National Stock Exchange index Nifty crashed 900 points on Friday morning, halting the trade, which the bourse blamed on erroneous orders worth Rs 650 crore (Rs 6.5 billion) by a broker Emkay Global for one of its clients.

The NSE said it is investigating the matter and the abnormal orders that resulted in multiple trades at low prices.

In a statement after the incident, which halted the trade in cash markets for about 15 minutes, NSE said, "The market circuit filter got triggered due to entry of 59 erroneous orders which resulted in multiple trades for an aggregate value of over Rs 650 crore.

"These orders have been entered by a trading member Emkay Global Financial Services on behalf of an institutional client.

"These non-algo market orders have been entered for an erroneous quantity which resulted in executing trades at multiple price points across the entire order book thereby causing the circuit filter to be triggered.

"These orders have been identified to a specific dealer terminal," it added.

On the other hand, BSE said the market at the exchange was working fine and there were no technical or other issues at the bourse.

However, the BSE index Sensex also fell by about 200 points in reaction to the
plunge in Nifty, as there are many common stocks on the two indices.
The incident occurred on a day when expectations were high for a sharp upward rally on the bourses following various reform measures approved by the Union Cabinet on Thursday evening, including on FDI in insurance and pension sectors.
"The market opened normally today and Nifty opened at 5,815.
"Nifty circuit filter got triggered at 9.50.58 hours upon which the cash market was closed automatically," NSE said.
"The exchange systems functioned normally without any glitch, but the above abnormal trades caused market closure automatically due to the index circuit filter getting triggered, the exchange added.
"The market was reopened by the exchange with a pre-open phase at 10.00.22 hrs and trading resumed at 10.05 hrs.
The market is functioning normally and the incident is being investigated," it said.
Trading in the NSE index Nifty halted after the measure plunged almost 16 per cent from Thursday's close of 5,787.60 on Thursday.
Stocks of ICICI Bank plunged to Rs 866.75 from Rs 1,083.40 on the NSE. HDFC Bank dropped to Rs 505 from Rs 631.30, TCS to Rs 1,055 from Rs 1,317.15 and Reliance Industries to Rs 682.35 from Rs 852.90.
All these stocks, which fell by up to 20 per cent, carry significant weightage on the indices.